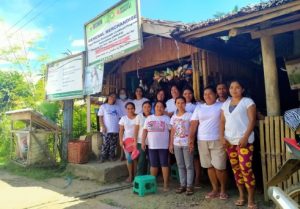 Over the years, women's role and importance in society have drastically changed for the better. From being restricted inside the household, women have become leaders and prime movers in the community. Yet at present time, in some parts of the world, there are still women who are afraid to step up and continue to box themselves inside their homes – thinking that being a housewife is all that they can ever be.
This is the case for the women of Agus Women's Sustainable Livelihood Program Association (SLPA). Before becoming members of the association, most of them used to only stay at home and function as dutiful housewives and mothers to their children. Some assist their husbands or children in tending their farms.
They thought that those were the only roles that they could fit in. These women felt that there are no other places in the community for them but only their homes and farmlands.
But this changed when they came to know about the Sustainable Livelihood Program (SLP) of the Department of Social Welfare and Development (DSWD), where they became members of the said program.
The members' view on women's role in society slowly changed as they attended SLP general assemblies, trainings, and capacity building activities. They began to explore their capabilities and became active in their community.
With their new perspective, the members of the Agus Women's SLPA decided to use the seed capital they have received from the DSWD-SLP to open a general merchandise store. They opted for this livelihood venture because they saw that their community was in need of an accessible store for their basic needs.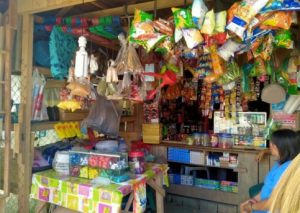 Along with this intention, Agus Women's SLPA Treasurer Solidad A. Suazo shared that they also wanted to inspire other members in their community by working harmoniously, helping others, and persevering to improve their socio-economic well-being.
"Gipili namo ang general merchandise kay gusto mi maka-reach out sa mga kaubanan namo sa komunidad, maghatag og serbisyo sa ilaha, ug ipakita sa ila among paningkamot nga dili masayang ang proyekto nga gihatag sa amo sa gobyerno (We chose to open a general merchandise store because we wanted to reach out to our fellows in the community, be of service to them, and show them our perseverance to ensure that the project given by the national government will not go to waste)," Suazo said.
But their journey towards sustainability and women empowerment isn't a walk in the park. Earlier this year, the association had issues meeting the expenses for their lot and building. But the SLPA did not let this matter to dishearten them. Instead, the officers and members convened immediately and sorted out solutions for their situation. After some discussions, they coordinated with the Barangay Local Government Unit (BLGU) of Sta. Ines, San Luis and asked help from the latter to provide and transfer them to a new location that they can afford.
Further, the association has also agreed to accomplish their building through Bayanihan and collection of monthly dues.
And so, the Agus Women's SLPA continues to work out this concern and continues to work harder so that the project may flourish. Currently, the SLPA is planning to expand their services by making floor wax and consigning or marketing it to other SLP associations in the region.
By gaining a new perspective, widening their horizons, and understanding the importance of women in society, the members of the Agus Women's SLPA learned that they could do a lot more. Now they know that they can make a difference and become role models in the community.
It's true. Some times in life, one only needs to change perspective to see that he or she can make an impact on society.