As a prelude to the Elderly Filipino Week celebration, the Department of Social Welfare and Development (DSWD) Field Office Caraga recognized in felicitation the centenarians of Bayabas and Carmen, Surigao del Sur last September 15-16, 2020.
The first Sunday of October is declared as the National Respect for Centenarians Day which is also part of the annual celebration of the Elderly Filipino Week on October 1-7, 2020.
Centenarians, Maria Dolores T. Laguna of Bayabas, Surigao del Sur and Abundancia L. Josol, from Carmen, Surigao del Sur, were awarded a certificate of recognition from DSWD FO Caraga and felicitation/greetings from President Rodrigo Roa Duterte on September 15 and 16, respectively.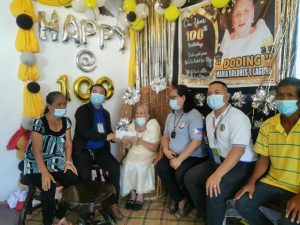 The tribute exclusive for centenarians is in recognition of the Republic Act 10868 or "An Act Honoring and Granting Additional Benefits and Privileges to Filipino Centenarians, and For Other Purposes", prescribing that Filipinos who live two or beyond 100 years of age will be given a letter of felicitation signed by the President. The law also covers all Filipino centenarians living abroad.
Accordingly, qualified Filipino centenarians shall submit their birth certificate or a valid Philippine passport. In the absence of these two (2) primary identification cards, any two (2) of the following secondary documents may also be accepted: marriage certificate, birth certificate, affidavits, old school or employment records, baptismal or confirmation records of a centenarian, overseas voting card or affidavit, foreign driver's license, and medical or health card.
For those living abroad, documents may be submitted to the Philippine Embassy or Consulate with the jurisdiction in the area. The Commission on Filipinos Overseas shall evaluate all applications and endorse the qualified applicants to DSWD. DSWD shall then coordinate with the Department of Foreign Affairs for the transmittal of felicitation letter and cash gift from the national government. Lastly, DSWD shall also endorse the list of qualified centenarians to their respective Local Government Units (LGUs) for processing of local awards and incentives.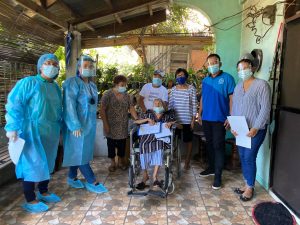 Amid the threat of the Novel Coronavirus Disease, also known as COVID-19, DSWD FO Caraga conducted the house-to-house delivery scheme for the centenarians in consideration of the beneficiaries' health and physical limitations. This scheme is more convenient for the centenarians as well as to their relatives considering that the government is encouraging seniors to stay at home as part of the health and safety protocols.