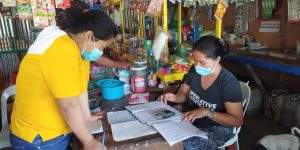 "Basta asosasyon dili jud na mulambo, (Associations/groups often do not succeed)."
These were the words that the members of the Borbon Sustainable Livelihood Program (SLP) Association kept hearing when they started the operations of their general merchandise project in 2017. Some even said that they would cease to operate in three months or so.
Initially, this comment took a toll on them. They felt that the livelihood project given to them by the Department of Social Welfare and Development's (DSWD) Sustainable Livelihood Program (SLP) will not do well and will eventually fail – just like what their critics expected.
Despite this, they pursued to prove their doubters wrong.
Becoming an SLP association, welcoming opportunities
The Borbon SLP Association, based in Barangay Borbon, San Francisco, Agusan del Sur, was organized in February 2016. It is composed of 28 female and 2 male members. The association agreed to propose a general merchandise store as they deemed this as the most feasible project because they were located at the heart of the barangay – making it easier and accessible for all the residents.
In Barangay Borbon, there were existing sari-sari stores but they do not have enough supplies and could not cater to other basic necessities of the community. Residents had to travel 31.9 kilometers (45-minute motorcycle ride) to get to the town center and buy the necessities that were not available in their barangay.
As program participants, the SLP association members also benefited from the opportunity to attend skills trainings like store management and warehousing to ensure that they have the skills and knowledge needed to operate a huge general merchandise store.
Managing finances, providing employment, & ensuring sustainability
It was true that the SLP association struggled during the early stages of their operation. At first, they were disheartened. But they remembered that they had their commitment to the DSWD-SLP, to their families, and to their own selves that they will make the project grow.
One of the association's goals was to provide stable employment to their members. Hence, they hired one of their members to serve as a cashier and provided her with a fixed salary.
They also tapped barangay tanods (village watchmen) to help them secure the safety of their store, especially at night. In return, they provide an honorarium for the services rendered by the watchmen.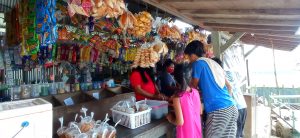 The Borbon SLP Association also regularly deposits their sales to the bank to make sure safekeeping of their resources. Other than that, when they need to purchase goods and supplies for their store, the members would just withdraw the exact amount required to pay the commodities.
From January 2020 up until July 25, 2020, the association has a total earning of Php2,709,760 despite the crisis caused by the COVID-19. Because of travel restrictions, most people in their community would purchase items from them that is why they were able to maintain good sales.
Hitting two birds with one stone
In order to sustain their business during the pandemic, the association also resorted to selling vegetables, kakanin (rice cakes), and viands prepared by the SLP association members. This was a hit among the residents because there are no available carinderia (restaurants or cafeteria) in their barangay.
Aside from making this as a strategy to sustain the sales, they also ventured to this scheme because they wanted to help the members have extra income to help them get through the pandemic. This strategy was also done to spare the members from having to walk around their community to vend their products and to steer them away from the threat of COVID-19, especially that people were advised to stay at home.
From the sales of their add-on products, the SLP association gets 10% from the sales and 90% is returned to the consignee. In this way, the two parties get to benefit from this marketing strategy.
Of establishing partnerships and reaching out to the community
Running for three years now, the association has been able to establish a strong relationship with the Barangay Local Government Unit (BLGU) of Borbon. Just like what they have committed during the beginning of the project implementation, the BLGU of Borbon continues to extend technical support to the SLP association to contribute to the growth of the association's livelihood.
As part of their partnership, the association donated Php10,000 worth of grocery items to the barangay which were distributed to the most-affected families in their community during the early months of the implementation of the community quarantine.
Both parties relentlessly continue to work together to ensure that they do not only maintain a healthy relationship but also reach out a helping hand to their community.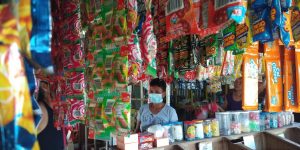 Going above and beyond
At present, the Borbon SLP Association keeps learning new strategies to achieve their goal of expanding their business and helping more people in their barangay.
Despite the negative comments from the people, the SLP association has proven their doubters that their initial impressions were wrong. The SLP members had surpassed people's expectations and proved that they were bound to succeed.
Instead of the initial prediction that they were to last for three months only, the association is still running for three years now- and counting!
Borbon SLP Association President Margarita Caromayan said that they will never stop working hard and harmoniously. She said that they want people to see that they were also capable of success.
"We were able to benefit from the livelihood grants provided by DSWD-SLP and we will not allow this to go to waste. We want people to know that we have the capacity to grow and become successful," Caromayan said.
Borbon SLP Association's journey was not easy. But in the end, they were able to prove that they were capable of things that people did not expect them to have or to do.
For the members of the Borbon SLP Association, a retreat was not an option.
Their only focus is to continue to go above and beyond.