Opportunities comes to those who persevere and take chances. Though there are instances where opportunities are scarce for those who do not necessarily have the connections – the resources, hard work and a special set of skills have come in handy to open doors for better, life changing opportunities. This is what Meramie C. Bernales, a Manobo woman strongly believes in.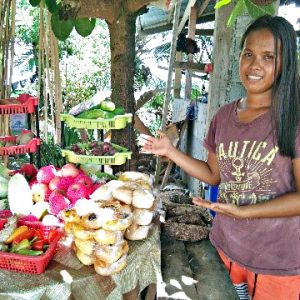 Meramie, a good and devoted wife to Edward, and a loving mother to her daughters Hazylee and Eumae, have been a hard-working farmer for quite some time. Having been a farmer, it was a blessing when they had the chance to be part of the Modified Conditional Cash Transfer for Indigenous Peoples (MCCT-IP) for the Pantawid Pamliyang Pilipino Program (4Ps) in 2014.
"Dako gyud og tabang sa pinansyal ang MCCT labi na kay dili igo ang among kita sa pag-uma. Ako usab parent leader sa among barangay og naningkamot ko nga makasunod sa tanan kondisyon sa program labi na kay kami pud ang madali-dali og tawag basta naay mga ipabuhat sa barangay (The financial grants of MCCT has helped us a lot since our income through farming is not enough. I am a parent leader too in our barangay and I work hard to comply with the conditions of the program especially that we are on-call when the barangay needs assistance)," Meramie shared.
When they were prioritized to avail of a 24-day Cash for Work project, she was motivated. The project required planting not less than 200 banana seedlings in their own vacant lands. But with her devotion and hard work, she was able to double it to 400 during the 24-days of the project.
Their labor was not in vain, as their bananas bore fruit and they earned from it. She became motivated and planted more. Now, they at least have 1,500 banana plants, and they earn around Php15,000.00 to Php 18,000 in a month. She also made use of her entrepreneurial skills, and her cooking skills by putting up a small vegetable store and carenderia.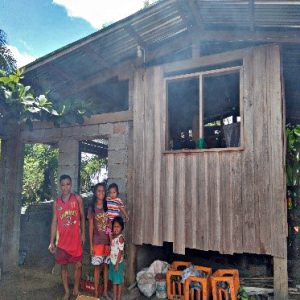 "Nakasugod na mi og patukod og bag-o nga balay. Kadtong niabot ang pandemya, wala ra kaayo mi nabug-atan og maayo tungod sa among napundar nga ipon, dili pareha sauna nga dili pami membro sa MCCT-IP. (We are also building our new house. With all the opportunities and hard work, our family was not heavily affected of the pandemic crisis. Not like before we became beneficiaries of MCCT-IP)," she proudly shared.
Without a doubt, opportunities do come to those who work hard and grab chances which comes their way. But most of all, opportunities, coupled with some skills, do produce good outcomes. ###(Social Marketing Section/DSWD Field Office Caraga)