Four (4) more people's organizations (POs) in the provinces of Agusan del Sur and Surigao del Sur received agroforestry livelihood projects from the Department of Social Welfare and Development (DSWD) Field Office Caraga through its Sustainable Livelihood Program (SLP) and the Department of Environment and Natural Resources (DENR) – Region XIII.
Active Native Develop and Unite for Human Aquamarine Wealth (ANDUHAW) Inc. in Barangay San Juan and Barangay Unite for Development of Aquamarine Sustainability (BUDAS) Inc. in Barangay Talisay, Hinatuan, Surigao del Sur, were individually granted with a Danggit Production and Processing Project amounting to PHP 750,000 and PHP 660,000, respectively.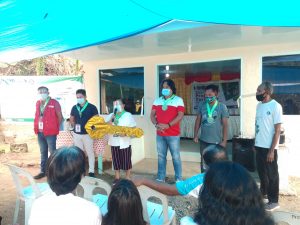 The said recipients were able to receive Danggit fingerlings, feeds, materials for construction of fish cage, solar dryer, and display center.
Both associations opted to engage in Danggit Production as there is a high demand for Dried Danggit in the region and other parts of the country, based on the market research they have conducted with the help of the DENR – Region XIII.
Hinatuan Mayor Shem G. Garay personally attended the turn-over of these projects and committed that the Local Government Unit (LGU) of Hinatuan will continue to extend technical assistance to the POs to ensure stability and sustainability.
Aside from the Danggit Production Projects, Rubber Cuplumps Trading Projects have also been handed over to three associations in Agusan del Sur, namely: San Juan Tribal Indigenous Association (SJITIA) Inc. and Tamaco Management of People Organization (TAMPO) Inc. in Bayugan City, and Bakingking Farmers Multi-Purpose Cooperative (BAFMUPCO) in Esperanza.
The Rubber Cuplumps Trading Project recipients also received a one-unit delivery truck each, which will be used by the organizations to transport and deliver their products. In this manner, the organizations will be able to respond to customers' demands easily and on time and to increase their productivity.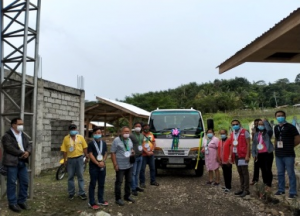 During the turn-over ceremony, SJITIA Inc. Chairperson Jovencia D. Sag-od expressed her gratitude to the key agencies for providing the Indigenous Peoples' community a door of opportunity that can lead to their empowerment and sustainability.
"Dako gyud kaayo ang among pasalamat sa DSWD-SLP ug DENR nga gihatagan kami og oportunidad nga mapalambo ang among panginabuhian. Bisan kami mga Lumad, wala gyud kami kalimti sa gobyerno ug gitagaan kami og importansya (We would like to extend our big thanks to DSWD-SLP and DENR for giving us an opportunity to better our livelihood. The national government has never forgotten us, belonging in the Indigenous communities, and has given us importance)," Sag-od said.
Aside from Sag-od, BAFMUPCO Chairperson Janifer Aya also extended gratefulness to the agencies for granting the project and helping them get through the crisis caused by the pandemic.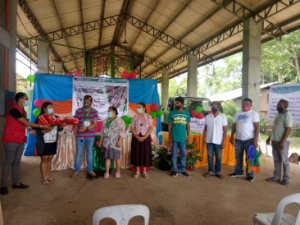 "Dako kaayo among pasalamat sa DSWD-SLP, DENR, ug sa LGU Esperanza sa higayon nga gihatag kanamo pinaagi niining dakong proyekto. Luyo sa kalisod nga atong nasinati karon tungod sa pandemya, kami sa kooperatiba maningkamot gihapon nga amua mapalungtad ang proyekto (My utmost gratitude to the DSWD-SLP, DENR, and LGU Esperanza for the chance they have given us through this huge project. Despite the struggles we have been grappling with brought by the pandemic, we, in the cooperative will work hard to ensure that this project flourishes and expands)," Aya shared.
Further, the Organizations also shared their worry as the buying price of rubber has slightly dropped due to the crisis. Nonetheless, the LGUs of Bayugan City and Esperanza ensured the associations its full support to overcome the challenges they will face.
Esperanza Mayor Leonida Manpatilan reassured the beneficiaries that they will eventually succeed in their ventures.
"Ayaw kamo kaluya kung barato ang palit sa rubber cuplumps karong panahuna. Ang rubber muduga bisan sa katiguwangon na niya. Pwede ninyo nga ipondo ang cuplumps ug hulaton kanus-a mutaas ang presyo sa palit niini (Do not be disheartened if there is a minimum buying price of rubber these days. The rubber will keep producing despite its age. In the meantime, you can store excess cuplumps and wait until the market for rubber has returned to normal)."
Manpatilan also said that the LGU will continue to offer technical assistance and extend help to the association whenever they need it.
The aforementioned organizations have decided to venture to rubber cup lumps because Agusan del Sur has rich and vast lands suitable for Rubber plantation.
Out of the 24 target livelihood projects, a sum of 10 projects have already been turned over by the agencies to different POs beginning March of this year. DSWD-SLP and DENR aim to deliver the remaining projects by the end of October, this year.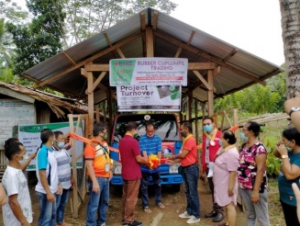 The DSWD, through the SLP, and the DENR have allocated a total of PHP 20M for this project to fund 24 Agroforestry POs in the provinces of Agusan del Norte, Agusan del Sur, and Surigao del Sur.#