With the upsurge of COVID-19 cases in the country, the Department of Social Welfare and Development has directed all Field Offices to cancel the physical activities and involvements planned for the whole year, including the Pantawid Pamilyang Pilipino Program (4Ps) activities.
Some 4Ps activities that are temporarily suspended are the assessment of household beneficiaries using the Social Welfare and Development Indicators, facilitation of over-the-counter payouts for non-cash card holders, and the conduct of the monthly Family Development Sessions (FDS).
While DSWD cannot discount the great threat of the pandemic in the lives of its 4Ps beneficiaries, there is still a need to monitor the compliance of the health services, and provide timely and relevant information to the program beneficiaries by adapting to the new normal scenario.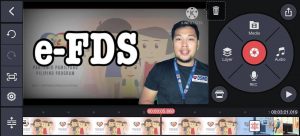 To achieve this, DSWD Field Office Caraga through the Pantawid Regional Program Management Office (RPMO), issued interim guidance notes on the implementation of FDS in time of the pandemic.
"It shall serve as the basis on how to conduct the monthly learning sessions abiding to the minimum safety measures and community quarantine protocols. It will guide the field staff in delivering the electronic-FDS as an educational and psychosocial intervention for beneficiaries as applicable in their current situation or location," Analiza Navia, RPMO FDS focal person, explained on the rationale of the adjustments on the conduct of the program's activities.
The e-FDS is developed by the Family Development Division of the program's National Program Management Office and uploaded to the Pantawid Pamilya official account to serve as the prescribed topic nationwide. Should the provincial office or city/municipal offices deem the need for a different topic other than the e-FDS topic, the field implementers may add the said supplemental messages as rider topics, without sacrificing or replacing the prescribed topics.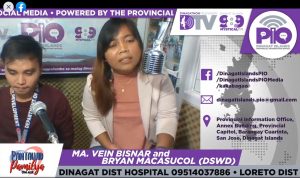 In the past months, some field workers already started implementing the e-FDS through Facebook live streaming, broadcasting on air, and printing/distributing the information materials for those who do not have access to Internet.
The program beneficiaries have been encouraged to write an entry about their insights, comments, and clarifications on their journals, while parent leaders are mobilized to check the journals of their members, that would serve as their attendance/compliance for the FDS requirement for the month.
"It is with fervent hope that we may be able to utilize the quarantine period to provide new learnings to our beneficiaries through these various delivery modes," Navia said. ###(Social Marketing Section/DSWD Field Office Caraga)