Being an effective leader takes a lot of effort. Although it can be a tough job or function, it can also be one of the most rewarding roles one can have.
Vanessa Banguis, a 36-year old resident of Barangay Mabua in Surigao City, used to sell ready-to-wear (RTW) garments to support herself and her family's needs during her younger years. Regularly, her small livelihood would earn her an income of PHP 3,000 a month.
Vanessa never planned of becoming a leader of sorts. She has always seen herself as an independent worker. Though she can immediately adapt to groups, she prefers working solo because she thinks that she is not ready to take on immense responsibilities.
But in 2018, an opportunity came her way, which became a game-changer.
Vanessa became one of the eligible program participants of the Sustainable Livelihood Program (SLP) of the Department of Social Welfare and Development (DSWD). On top of that, she was also elected as president of their SLP association, Mabua Silangan Sustainable Livelihood Program Association (SLPA).
Their group decided to establish a general merchandise store using the seed capital fund from the program amounting to PHP 450,000. Having an experience selling RTWs, Vanessa thought that she could manage that.
Yet, she was still having worries and was uncomfortable with the fact that she was handling a project that costs hundreds of thousands of pesos. Other than that, she had zero experience managing people being an independent worker for the past years.
"When the SLPA was just starting and I was elected as the SLPA president, I was worried since I was just a simple housewife and has no experience in managing hundreds of thousands worth of the project. From the processing of the legal documents, to the managing of the manpower, everything was new to me," Vanessa narrated.
Despite her self-doubts, Vanessa did not let this marginalize her abilities. Instead, she faced these challenges for her to know herself better, to discover new skills, and to become a good and responsible leader.
She said, "I did not let my lack of experience and knowledge to hinder my role. I took the responsibilities and challenges because I believed what's important is that you learn to love what you do and to have patience and faith for whatever trials you may encounter along the way."
Slowly, Vanessa found her way to become a better leader. She learned to develop a positive attitude and design strategies that helped her manage the association and the project well.
Along the way, Vanessa also improved her self-confidence little by little. She realized that she has the capacity to handle a large group of people while consequently, monitoring the progress of their project.
Vanessa also emphasized that she has been excelling as a leader because she is also blessed with responsible, strong, and active SLPA officers.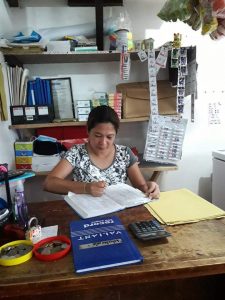 "I am also grateful to have strong and responsible officers beside me. Without them, I won't be able to make it this far," Vanessa stressed.
Aside from ensuring the success of their general merchandise store and strengthening their organizational structure, Vanessa and the Mabua Silangan SLPA also deemed to be of great importance to become active in the community and extend their services and efforts.
When the country went into full lockdown last April, Vanessa and the Mabua Silangan SLPA volunteered to help the community by distributing food to the front liners in the barangay and in Surigao City.
Other than that, the association also partnered with the Barangay Local Government Unit of Mabua to provide one sack of rice per household. Vanessa and her team also took the initiative to give out Php150.00 worth of groceries to their SLPA members.
All of these initiatives have been made possible because of the leadership of Vanessa. With Vanessa's influence on the Mabua Silangan SLPA, her members became motivated to deliver passionate and dedicated service to the people. The pandemic has led them to the realization that with the opportunities coming their way, they also have important roles to fulfill in their community.
Era Saguban, one of the members of the Mabua Silangan SLPA, supported this fact as she witnessed how the excellent leadership of Vanessa has helped them in many ways.
"Ako isip usa ka myembro sa association, ako nakita nga usa siya kamaayo nga lider kay wala siya maglantaw alang lamang sa iyang kaugalingon, kun dili alang sa kaayuhan sa mga myembro ug sa mga lumulupyo sa barangay. Dili lamang iyang opinion an matuman kay mukuha pud siya og opinion sa uban member (As a member of the association, I witnessed how good of a leader she is because she considers not just herself, but as well the welfare of other members and residents of the barangay. She does not just listens and contemplates her own opinions, but she also gathers the opinion of others)," Saguban gleefully said.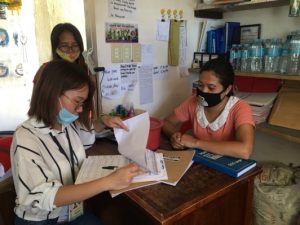 For 2021, Vanessa and her co-members plan to expand their livelihood and establish a micro-lending project. They are eyeing to start this as early as January 2021, as they have already managed to deposit a substantial amount of their income in the bank for the said endeavor.
"Now, we may still have a long way to go, but we can say we're already victorious," Vanessa said, with a huge smile.
Just when Vanessa thought that she was only meant to work alone, the universe opened an opportunity for her to lead a group of women with one goal. Although she figured it out a little late, Vanessa realized that she has the calling to lead others. More than anything else, she aspires to become a better leader so that she can set a good example for the people around her.
With the tangible and notable results of her actions, Vanessa has definitely made a significant impact on her community. Being a leader may require a lot of effort. But when you have the drive for it, it just comes naturally.
Take for example, Vanessa.