In response to the pandemic crisis, the National Advisory Committee (NAC) of the Pantawid Pamilyang Pilipino Program came up with the idea to put on hold the compliance of the conditions starting February to September 2020 through the National Advisory Committee Resolution # 1.
This implied that the rice subsidy, education and health grants were provided to all household beneficiaries fully even in the absence of physical Family Development Sessions (FDS), school/medical facility visits, and garden spot-check or monitoring. However, 4Ps beneficiaries of Surigao del Sur continue to toil and grow their own vegetable gardens.
First, a Manobo grantee in San Miguel, Surigao del Sur, despite being pregnant, made sure to spare her time by taking good care of her garden. Tessie Cuadra, and her husband Christopher, are farmers. But because of the pandemic, they could barely sustain their family's needs. However, she was able to provide nutritious meals for them by continuing to plant amid the pandemic.
"Sa among nataran, naay okra, sibujing, kalabasa, malunggay, tanglad, ug uban pa. Bisan sa kalisod, nakapangita gihapon kami og pamaagi nga makakaon og naay sustansya. (In our garden, we have okra, spring onions, squash, moringa, lemon grass, among others. Even with hardship, we still found a way to eat food with nutrients)," Tessie proudly shared.
Another family who made efforts to continue their regular gardening during the pandemic was the Laurente family. Though the COVID-19 outbreak happened, it gave Wivena Laurente and her family an opportunity to enjoy each other's company through family bonding, and backyard gardening in Tago, Surigao del Sur.
Their garden has Malabar spinach, tomatos, sweet potatos, string beans, eggplants, lady's fingers, ampalaya, sponge gourd, and malunggay. They also have spices like lemon grass, onion, and bell pepper. The backyard garden is a great help to them especially when the Enhanced Community Quarantine (ECQ) was implemented, because nutritious foods are available nearby.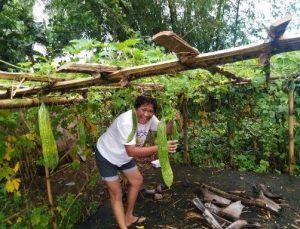 "Nakahatag pud sa amo og dugang halin kay ibaligya man namo ang uban (The garden provided us extra source of income because we sell some of it too)," Wivena exclaimed.
Lastly, Lally Quezada is one of the affected beneficiary in Cortes. She disclosed that during this pandemic their economic situation has been so tough. Luckily, she found an empty space near their house.
"Yakita nako na may bakante duol sa amo municipal gym, amo yadto tagtamnan namo nan ako bana nan mga gulay para may panud-an kami (I found a vacant lot near our municipal gymnasium, so I and my husband decided to plant vegetables on it for us to have viand)," she recalled.
She utilized the space to plant malunggay, ampalaya, okra, Chinese spinach, squash, and other leafy vegetables. She already harvested from her mini garden and shared her harvest with some of their neighbors.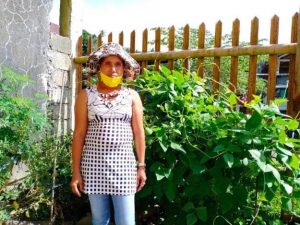 More than their need for food, this pandemic also taught the Pantawid beneficiaries how to be creative, resourceful, and be optimistic in all the negativities encountered. According to them, they will continue to maximize their space for a backyard garden because they realized its importance and benefit to their health. ###(Social Marketing Section/DSWD Field Office Caraga)