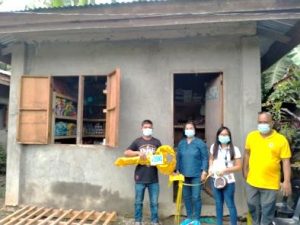 BAYUGAN CITY – In its relentless pursuit to attain an inclusive, sustainable peace in the country and to provide communities in conflicted-afflicted areas a chance to have improved living conditions, the Department of Social Welfare and Development (DSWD) Field Office Caraga, through the Sustainable Livelihood Program, turned over a one-unit general merchandise store project to the One Stand Association (OSA) in Barangay Noli, Bayugan City.
OSA, organized on July 14, 2020, is an SLP association composed of 20 former rebels hailing from various barangays in Bayugan City, namely: San Juan, Katipunan, Pinagalaan, Mount Olive, Mount Carmel, and Osmeña.
The general merchandise store, amounting to PHP300,000, is the DSWD-SLP's intervention to help the former rebels and their respective families to have a stable source of income as they start their new lives.
The store is situated at the Home Defense Village located at P6, Barangay Noli – a community established by the National Task Force to End Local Communist Armed Conflict of the Philippine Government which serves as the new home to former rebels and their families. In this community, former rebels will be involved in different activities that will support them improve their socio wellbeing.
On top of that, they will also be imparted with livelihood and economic opportunities to help them become self-sufficient.
During the turnover, the Association President expressed his gratitude to the Philippine National Government, particularly to the DSWD-SLP and the Local Government Unit (LGU) of Bayugan City for giving them access to such livelihood opportunity.
"Uban sa akong mga kaubanan nga former rebels, dako gyud kaayo among pasalamat sa gobyerno ug sa lokal nga gamhanan sa Bayugan City ug labi na sa ahensya sa DSWD-SLP kay wala nila kami gibiyaan ug gitabangan nila kami sa pagsugod sa bag-o namong kinabuhi isip sa pagbalik sa sabakan sa gobyerno (In behalf of other former rebels, we would like to extend our huge gratitude to the government especially to the LGU Bayugan City and DSWD-SLP for not leaving us behind and helping us restart our lives as we return to the fold of the law)," he remarked.
The activity was graced by ABC President Merla Ajan and City Social Welfare and Development Livelihood Focal Eric Cale.
The provision of livelihood assistance is under the Community Resilience Program of the DSWD Administrative No. 14, series of 2019 – the guidelines of the Agency in the implementation of Executive Order No. 70, series of 2018. The EO 70, series of 2018 seeks to institutionalize the Whole-of-Nation approach in attaining peace and ending local communist conflicts in the country.#