Amidst the threats and the challenges faced by the public due to the COVID-19 pandemic, the members of Social Welfare and Development – Learning Network (SWD L-Net) still took the time to meet and discuss important matters that would ensure the furtherance of the the advocacies of the network, especially in the promotion of social welfare and protection.
To do this, the SWD-LNet, led by the network's secretariat team from the Department of Social Welfare and Development (DSWD) Field Office Caraga, through the Capacity Building Section, conducted a "CAMustahan" session, on November 19-20, 2020, together with the partners/members of the Learning-Network.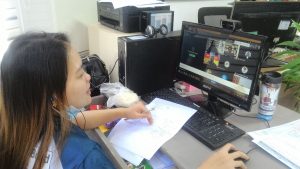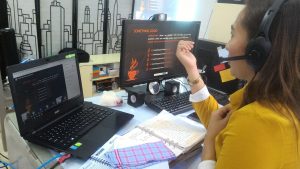 The activity, which was conducted through Google Meet (online platform), was simply a fun avenue for the Caraga SWD L-Net members to share their unique experiences in delivering social welfare and development services amid this time of heightened crisis and stress.
The activity, which was attended by SWD L-Net members from the Local Government Units (through the Local Social Welfare and Development Office), the Academe, Civil Society Organizations, Regional Line Agencies, and from the DSWD, tries to ensure that even with the pandemic, the Network would continue to capacitate members, and ensure to further Strengthen the communication, coordination and collaboration undertakings between and among the network members.
With the theme "Sa gitna ng pandemya, Ka-LNet, CAMusta ka," participants were ecstatic in sharing their stories of how they were able to cope with the stresses of the pandemic, and how they were able to continue in the implementation of their social welfare and development programs.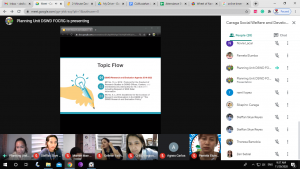 During the first day of the CAMustahan, the Network was able to revisit the activities conducted for 2020, including updates of conducted activities by the members. The day was capped off with the conduct of the Planning Workshop for 2021.
On Day 2, focus shifted on the discussion on the DSWD Research and Evaluation Agenda, discussed by Felyjane Leray, PDO II of the Policy Development and Planning Section (PDPS). This topic is important since the Research and Evaluation Agenda will be able to generate knowledge based on researches and evaluations that respond to present social development and economic issues as well as to fill up knowledge gaps that are not addressed by the current Social Welfare and Development interventions.
DSWD OIC – Regional Director Ramel F. Jamen, who is also the SWD L-Net Chairperson, extended his heartfelt appreciation to the network saying that he firmly believes that the activities and endeavors of the L-Net is towards the right direction to forge synergy between stakeholders, and the one way to do it is to sustain and strengthen implementation of the different social welfare and development services.