The Philippines' ever-growing social and economic problems are considered the major causes of the rising number of abandoned Filipino children. According to UNICEF, almost 10,000 children become orphan every day. Given the fact that there are other out of sight conditions resulting to some shortfalls in calculating the accurate statistics of abandoned children, leads to a serious implication that there are actually more orphans that are unreported.

With the ever-growing population in the country, the increasing number of abandoned children or children in need of special protection, only means there is a need for more foster parents.

This concern worsened when the worldwide COVID-19 pandemic hit the country, panning out a total of 547 COVID-19 active cases as of November 3, 2020 in Caraga. In this time of pandemic, children are considered as the most vulnerable and fragile members of the society. This signals the seriousness of Foster Care towards abandoned and neglected children.

Thankfully, there are people who are tenderhearted and are willing to shower alternative parental care and love to abandoned children. Mr. Reuel C. Belza and Mrs. Concepcion G.  Belza are a couple from Butuan City who chose to become foster parents. Mr. Belza serves as the Deputy Chief of Police at Bislig City, while Mrs. Belza is a professor at the Philippine Normal University-Mindanao.

A Newborn on a Rainy Night

 

It was around 7:00 o'clock on a rainy evening on the 4th of July 2020, when Johnny Aquino, a security guard in Juen Building, San Francisco, Agusan del Sur, heard a crying baby. He looked around the building and found a white plastic cellophane. As he looked closer, he realized that there was a newborn baby. He immediately called the owner of the building and called for rescue. Soon after, the Search and Rescue Agusan del Sur (SARAS) of San Francisco, ADS came and brought the child to D.O Plaza Memorial Hospital, in Patin-ay, Posperidad.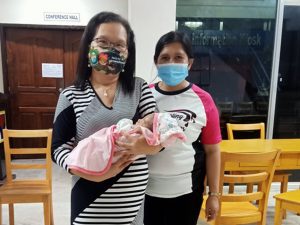 With the Assistance of the Local Government Unit (LGU) of San Francisco, ADS, the newborn was placed to a licensed foster family through the social workers of the Adoption Resource and Referral Unit (ARRU) at the Department of Social Welfare and Development (DSWD) Field Office Caraga. The licensed foster family, Mr. and Mrs. Belza have been developed a year ago and undergone the necessary qualifications.
Every Child deserves a family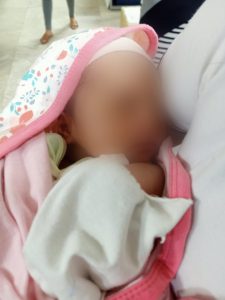 The newborn was given a crack at a better life through the opportunities brought about by the Adoption Resource and Referral Unit (ARRU) of the DSWD. The Agency believes that "EVERY CHILD DESERVES A FAMILY," thus, constantly encourages more couples and individuals to become foster parents in the region. With this, DSWD holds monthly adoption forum, every last Friday of the month intended to interested couples or even solo parents who are considering legal adoption process. The forum also amplifies Alternative Family Care Program which also serves as an encouragement for married or solo parents who are considering to become Foster Parents.
Foster care is a full-time ancillary care of children outside their own home by people other than their biological, adoptive or legal guardians. A child may be placed in foster care with their parents' consent. However, in some clear cases, such as cases of abuse or neglect, a court can order a child into a foster care without the parents' or guardians' consent.  Foster care does not necessarily mean that it is a care given by a stranger. With consideration of several factors, when the government agency decides a child must be removed from their home, the child may be placed with relatives or licensed foster parents.
Accordingly, foster placements may last for weeks, months, or years, depending on the child's case. If the parents give up their rights permanently, or the court severs the rights to their child, the foster family may adopt the foster child or the child may be placed either through domestic or inter-country adoption.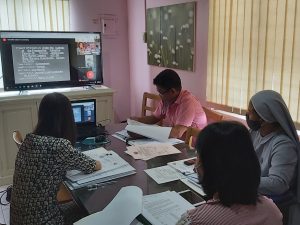 With the earnest desire to address the lack of foster parents in Caraga even in this time of pandemic, DSWD FO Caraga, embodies alternative procedures to carry on with the monthly Adoption Forum. To enable connection over shared experiences even in this time of crisis, the agency opted on conducting an online adoption forum, using Google Meet or Zoom, to partner Local Government Units (LGUs) and to other interested individuals. By this, social media cards are posted every month on the official Facebook page of the Adoption Resource and Referral Unit, Caraga region. These social media cards incorporate online links for easy access of the targeted audience. Other than discussing the entirety of the program, the agency also constantly provides discussion on several support care services such as counseling, training on child care and development, respite care, and skills training.
Additionally, to meet the child's behavioral and emotional needs, a monthly Foster Care Matching Conference is administered, participated by invited lawyers, pediatricians, NGO representatives, LGU Social Workers, ARRU Social Workers, as well as Community-based Social Workers. Not only does the conference cater close to accurate child placement towards a foster parent, the conference also explores other options in the best interest of the child.
Every child deserves a safe, secure and stable environment. They also need full-time attention, warmth of a family setting, and personal care in a normal and wholesome family. Bearing this belief, DSWD encourages everyone to be a part of the global community that prevents child abandonment. If you found it in your hearts the interest in giving every child a family that can give them the unconditional love they deserve, you may contact the Adoption Resource and Referral Section of DSWD FO Caraga at (085) 342-5619 / 342-5620 or you may visit the Local Social Development Offices near you.