On November 8, 2013, Typhoon Haiyan, or famously known as "Typhoon Yolanda", struck the Philippines and has been recorded as one of the deadliest typhoons in the country's history. Yolanda caused its most gruesome destruction in Tacloban City, Leyte. Over 6,300 people lost their lives and 1,071 are still missing. It did not only kill and displace many people, but it also destroyed livelihoods in its destructive path.
Being the most powerful and destructive typhoon, Yolanda also brought terror and ruined nearby cities and municipalities of Tacloban City.
In the Caraga Region, the municipality of Loreto in the Province of Dinagat Islands, which is located on the south side of the Leyte Gulf, also experienced the trepidation created by the typhoon.
Although there were no casualties recorded in Loreto, it still affected the livelihoods of the residents and prompted the temporary cessation of transportation on the island. Because of this, residents on the island, for some time, had no easy access to basic necessities such as food, medicines, and toiletries, which they usually brought from Surigao City, Surigao del Norte.
Learning from their experience, 25 Pantawid Pamilyang Pilipino Program (4Ps) beneficiaries from Gibusong Island in Loreto agreed to propose a general merchandise store as their livelihood project to the DSWD-Sustainable Livelihood Program (SLP).
As program participants of SLP, these 4Ps beneficiaries attended a general assembly and convened to become an SLP association. They, later on, elected their officers and created their association by-laws and policies.
During their assembly, the group decided to name their group, Liberty Sustainable Livelihood Program Association.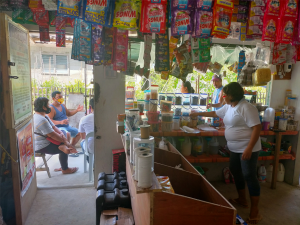 As the association members processed the necessary documents and attended activities significant to the realization of their projects, they showed utmost compassion and dedication because they badly wanted to be of help to the community.
During the initial weeks after Yolanda hit their municipality, they saw how people struggled to find basic commodities. Hence, this became their source of inspiration to ensure that the project will come to life.
But when the project was finally turned over to them and began their operations in 2017, the SLPA members were caught off guard and almost gave up.
They encountered several losses, low sales, and hard-to-manage members. Despite being trained on how to manage a general merchandise store and finances, many beneficiaries still had a hard time running the business smoothly. Most of these members did not have any experience managing a business, hence, keeping the project afloat was a real challenge for them.
Just when they were about to completely give up, Liberty SLP Association President Jodeto Degoria remembered the reason why they pushed for this project in the first place. He recollected that they envisioned this project to help rebuild the lives of the people in their community.
With this wake-up call, Jodeto met with his co-officers and other SLPA members to discuss effective and efficient strategies and solutions to sustain their general merchandise project.
"Among gibuhat, gisunod na gyud namo kung unsa ang among mga nasabutan nga among nakita nga mas makahatag og kalambuan sa among association. Isip presidente sa association, wala koy pabor-pabor. Ang importante sa amoa nga ma-sustain ug mapalambo ang enterprise nga gihatag sa amo sa panahon sa kalisod (What we did, we abided by the agreements we made which we perceived would lead to our association's success. As the association president, I did not take sides. What was important for us was to sustain our project and ensure that we are able to nurture the enterprise given to us during the time of crisis)," Jodeto shared.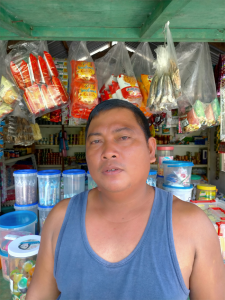 Slowly, they were able to get back on track. Losses have been recovered, members learned how to work harmoniously and effectively, and sales started to rocket.
Presently, the Liberty SLP Association has Php133,422 savings and a total collectible of Php94,233. Through the association's income, they were already able to acquire their own lot which was already paid in full.
In addition, the Liberty SLP Association has also done many noteworthy contributions to their community: sponsored two blocks of school wall for their community elementary and high schools amounting to PHP15,000; conducted feeding activities; donated food and drinks in a barangay-initiated activity, and distributed two kilos of rice to SLPA members during the first month of the enhanced community quarantine due to the COVID-19 pandemic.
This December, the SLPA plans to hold an activity wherein they can give back to the community and thanked the people who supported and patronized their general merchandise project. As a long term plan, the Association also aims to donate more projects in their community.
For the Liberty SLP Association, it has not been an easy journey to recover and rebuild their lives from Yolanda. Although it only took a day for Yolanda to destroy several lives, houses, and livelihoods, it also took people many years to get back up.
Despite all the struggles, the members of the Liberty SLP Association persevered and served their purpose: to help the people in their community through their general merchandise project.