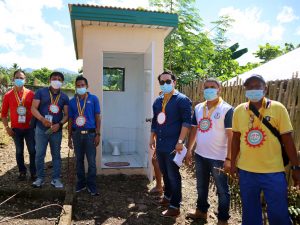 BUTUAN CITY — Mamanwa tribe members in Barangay Poblacion, Kitcharao town in Agusan del Norte no longer need to go to the great outdoors to relieve themselves.
This after the Department of Social Welfare and Development's (DSWD) Kalahi-CIDSS program turned over 31 individual household latrines to the said indigenous community on Friday, November 13, 2020.
The construction of individual latrines in Sitio Bliss, which costs P2.2 million, is under the Disaster Response Operation Procedure (DROP) of the Kalahi-CIDSS PAMANA IP CDD (PAyapa at MAsaganang PamayaNAn Indigenous Peoples Community-Driven Development) implementation.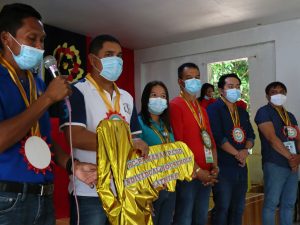 Poblacion Barangay Chairperson Marwayne Napalan said the project is the answer to the hygiene and sanitation problem in Sitio Bliss.
Napalan said the road to being healthy starts with a clean toilet, adding that the installation of toilets will significantly reduce the occurrence of diseases and the community now enjoy a cleaner and healthier environment.
Tribal leader Mabalaw Edwin Biog said they are very much thankful to the project, saying that the Mamanwas should use these toilets and not return to their old ways.
Biog said the toilets will definitely raise the standard of living of the Mamanwas.
Kalahi-CIDSS Regional Infrastructure Officer Engr. Potamio Valdehueza hopes that the beneficiaries will take care of the project for the next generation.
"Nanghinaut mi nga inyong tipigan kining mga latrine nga gibuhat para kaninyo arun mapuslan pa kini sa mga sunod nga mga henerasyon (We hope that you will take good care of these latrines we made for you so that the future generation will still benefit from it)," Valdehueza said.
DROP allows DSWD's Kalahi-CIDSS-covered areas to shift its operations from regular developmental activities into a disaster response modality to immediately address health issues.
PAMANA, under the Office of the Presidential Adviser on the Peace Process (OPAPP), is the government's framework for peace and development. It is implemented in conflict-affected communities, as well as in areas covered by existing peace agreements.
Kalahi-CIDSS (Kapit-Bisig Laban sa kahirapan – Comprehensive and Integrated Delivery of Social Services) falls under the second strategic pillar of the PAMANA framework, which is building resilient communities. The project objective is to improve the access of Kalahi-CIDSS areas classified as conflict-affected barangays (CABs) to basic social services and responsive, transparent, and accountable local governments.
According to the United Nations, everyone must have sustainable sanitation, alongside clean water and handwashing facilities, to help protect and maintain health security and stop the spread of deadly infectious diseases such as COVID-19, cholera, and typhoid.