For students, securing a Certificate of Completion for their studies is not merely receiving a piece of paper.  For Princess, Nicole, and Jean, it is part of a life-long dream to succeed and ensure the future of their family.
Being children beneficiaries of Pantawid Pamilyang Pilipino Program (4Ps), it is amazing how the three young ladies managed to overcome life's challenges having been born to a family considered poorest among the poor in the country. This year, school for them is a bit more challenging, with the shift to online and/or modular learning. But they take on these challenges with confidence, with help from their loving and support parents.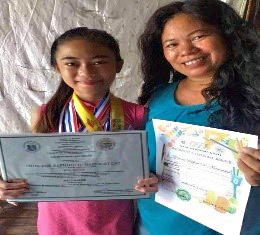 For Princess Saphire Namocatcat of Nasipit, Agusan del Norte, holding that katunayan (certificate) for completing the 20019-2020 school-year from Aclan Elementary School signifies not just her resilience, but the sacrifices she has done, and the unending support of her mother – especially in raising five children alone.
"Isip usa ka estudyante, dunay panahon nga gara-garaan siya sa iyang mga classmates tungod kay wala siyay amahan. Dili sila makighigala sa iya tungod kay bright man siya sa klase (As a student, there are times that she gets bullied by her classmates because she grew up having no father. There are also times when her classmates would not mingle with her because she does good in class)," Evelyn, her mother, narrated.
This made Princess develop trust issues, but it did not hinder her to excel in her class, and be among the top in their class.
"I am thankful that I have a supportive mother and older siblings. From Grade 1 to 5, I was consistently the first honor in our class. This year, I graduated with certificate imprinted with Valedictorian in our batch," Princess gleefully shared.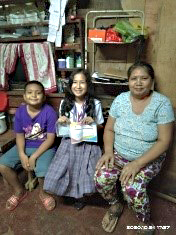 Meanwhile, Hans Nicole Sangco of Surigao City, also had a similar recognition when she graduated Salutatorian from Roberta C. Ouano Elementary School. She acknowledges her grandmother, Imelda, for her achievements in school, saying that the guidance and love she has given is what made her succeed.
Imelda, a 4Ps grantee, took care of Nicole since she was a baby. And having been able to miss out on the opportunity to finish their studies, Imelda and her husband know first-hand how difficult it is to land a job without completing high school and/or college.
"Nalipay kog dako kay tungod nianing 4Ps, natagaan ug pagtagad ang among mga anak ug apo sa pagpadayon sa pagpaskwela bisan sa kalisod sa kinabuhi (I am greatly thankful to 4Ps because our children and grandchildren were given an opportunity to pursue schooling even with the different challenges in life)," Imelda shared.
With the modified provisions of the Republic Act no. 11310 (4Ps Law), all children-beneficiaries of the Program are provided with education grants for a maximum of 10 months, amounting to P300 for elementary/daycare, P500 for junior high school, and P700 for senior high school.
Nicole never wasted this opportunity, as she was always chosen to represent their school in inter-school and division competitions. With the pandemic, she is doing her best to answer all her modules on time. "This certificate is just a start, I am much more motivated to pursue my studies, be a police officer, and help my family rise from poverty," she shared.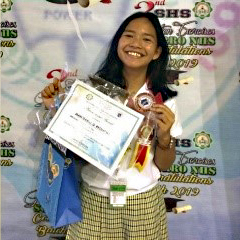 To reach her dreams amidst poverty is also the drive of Jean Dariel Besinga of Socorro, Surigao del Norte. She sees her certificate as a key to break the barriers between poverty and success.
By exceling both in academics and extra-curricular school activities, Jean was able to win a lot of competitions from 2018 up to present – Metro Bank MTAP, Dance Sport, Mathematics Individual Quizzes, and Journalism to name a few.
"Life is hard and in this new era, education is a ticket to success and that is the only treasure that my parents, a sari-sari storekeeper, and a carpenter, can leave to me. That is why I prioritize my education among others," Jean shared.
For some, a piece of certificate might mean nothing. But for these #Batang4Ps beneficiaries, it means a lot more – it is what makes Princess, Nicole, and Jean positive of the future ahead. It is what keeps them dreaming and striving to be the best that they can be. ###(Social Marketing Section/DSWD Field Office Caraga)