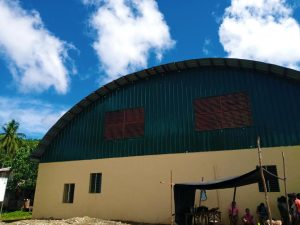 "This is it na! Ini na jud kita sa usa ka halamdunon nga adlaw (This is it! We are finally here in this momentous occasion)," an emotional Indayflor Banga, Barangay Chairperson of Camam-onan said during the inauguration of a multi-purpose building in Sitio Boyobanwa, Barangay Camam-onan in Gigaquit town, Surigao del Norte province.
"Sa ato mga paghago, sa ato mga sakripisyo, sa pagbuhos nato og oras ug panahon, wala gayud kami magtuo nga mahuman ini nga project. Kay kasayud kita kung unsa atong tag-agian, kun uno kalisud abton ini atong lugar, (In spite of all the hard work, sacrifices and time spent, we still could not believe that this project is now completed. We all know what we've been through and how difficult it is to reach this village)," Banga said, unable to hide her tears when she narrated how their long-aspired multi-purpose hall for the Mamanwa tribe is finally realized.
The Mamanwa tribe is one of the oldest and still extant tribes in the country. They bear a striking physical resemblance to the Negritos. They can be found in Agusan del Norte, Surigao del Norte, Surigao del Sur, Panaoan Island, and in the mountains of Southern Leyte.
The Department of Social Welfare and Development (DSWD), together with the National Commission on Indigenous Peoples (NCIP) and the Municipal Government of Gigaquit turned over the said project to the barangay local government unit of Camam-onan on Wednesday, November 18, 2020.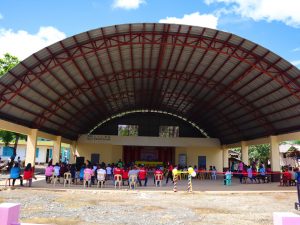 The building, which measures 460 square meters, costs P4.7 million. It is a project under DSWD's Kalahi-CIDSS PAMANA IP CDD (PAyapa at MAsaganang PamayaNAn Indigenous Peoples Community-Driven Development).
The multi-purpose building is situated in the midst of the Mamanwa community in Sitio Boyobanwa. One has to cross a river aboard a truck or motorcycle to reach this mountain village.
"Sa dugay na nga nag-damgo kami dinhi nga adunay matukod nga among balay alampuanan ug among balay duwaanan. Sa dagan sa mga kapanahunan, wala kami nagtuo nga mahuman kini nga proyekto, (For so long, we dreamed of this hall where we can pray and do recreational activities. As time passed by, we could not believe that this project is realized)," Mamanwa tribal leader Mabalaw Emeliano Gede said.
Gede and the rest of the tribe members are so thankful of the DSWD's community project.
Jean Paul S. Parajes, OIC-Assistant Regional Director for Operations, said that the indigenous peoples is one of the sectors that is close to the heart of DSWD.
"Naminaw ko sa gi-istorya ni kapitan, didto nako na-feel kung unsa gyud kalisud inyo na-agian. Pero sa tanan kahago ug sakripisyo, natukod siya (As I was listening to Chairperson Banga I felt the hardships you've been through. However, despite the sacrifices, the building was constructed)," Parajes said.
"Panggaa ninyo kini nga proyekto. Hopefully, pila ka years gikan karun nga mkabalik mi, mas monindot pa kini. Mao na akong dakong hagit sa inyo – ang pagmentenar ani nga proyekto (Take care of this project. Hopefully, many years from now, when we come back here, this will be improved. This is my challenge to you – to maintain this project)," Parajes added.
Parajes also explained that the aim of Kalahi-CIDSS is not the actual project but the people and community to be responsible in handling a project and for them to be united and be empowered.
Kalahi-CIDSS or the Kapit-Bisig Laban sa Kahirapan – Comprehensive and Integrated Delivery of Social Services is one of the poverty alleviation programs of the government being implemented by DSWD. Kalahi-CIDSS utilizes the CDD (Community-Driven Development) as the over-all community development approach and strategy.
The CDD approach ensures that development priorities are addressed in a participatory, collective, inclusive, and in demand-driven way. This is done through localized decision-making during social preparation activities, and in the identification, development, prioritization, establishment, and operationalization of community projects.