With the rise of the pandemic caused by the COVID19 virus, most small businesses around the globe have been massively affected – some going defunct. These small businesses are left with no choice but to work harder just to stay afloat.
Luckily, there are still a number of medium-scale businesses in the Philippine that were able to manage and sustain their livelihood despite the crisis. Above anyone else, it is the medium-scale business owners who are aware of the dilemma experienced by small businesses.
Having understood the gravity of the situation, many medium-sized businesses opted to extend support to the micro-business community to help them get through the pandemic. In Surigao del Norte, an association did such an act and took the initiative of helping their members who had small businesses.
The Mabua Silangan Sustainable Livelihood Program Association (SLPA) is a one-year-old association from Barangay Mabua, Surigao City. The association just celebrated their first anniversary on September 16, 2020, yet they already have achieved quite a number of milestones and created an impact in their community.
Under the micro-enterprise development track, the Mabua Silangan SLPA decided to establish a general merchandise store because they believed it was the most marketable business in their community and they can easily expand this type of livelihood.
Even before the country grappled with COVID-19, the Mabua Silangan SLPA has already been helping their members with small businesses through their general merchandise store.
In one of their first meetings during the early months of their operation, Vanessa Banguis, Mabua Silangan SLPA President, suggested to the members that they try displaying their products in the association's general merchandise store and see if it is profitable. If it yields a good impact, the association planned to directly buy from the members and resell it.
"During our meeting, I told my co-members that if they have any products, they can sell and display it in our general merchandise store. If the product will click, the association will buy from them, resell it, and they will become regular suppliers," Banguis said.
The members agreed to this as they saw that this was an opportunity to have a regular customer and fixed income.
Hence, Lilia Gorgod, a member of the Mabua Silangan SLPA, started displaying her broomstick products at the Mabua Silangan SLPA General Merchandise Store in March 2020.
"Ako si Lilia Gorgod, usa ka myembro sa Mabua Silangan SLPA. Ako nagpasalamat nga akong hinimo nga silhig nabaligya na diri sa among SLPA. Makompra na paghurot kay atong sa wala pa ang SLPA, aho sa gyud isuroy ang aho silhig. Karon dali na ang akong kwarta kay cash man dajun (I am Lilia Gorgod, a member of the Mabua Silangan SLPA. I am grateful to the SLPA for helping me sell the broomsticks I made. Now, all of the broomsticks I make are always sold out. Before, I used to peddle these broomsticks. Income is easier right now because the SLPA pays me cash)," Gorgod shared.
Aside from Lilia, the SLPA was also able to help Marilyn Macquian with her coconut sap vinegar and banana chips.
According to Marilyn, "Tungod sa pandemya, lisod kaayo ang panginabuhian karon. Pero sa tabang sa SLPA na siyang gina-supplyan nako ug akong produkto nga "Hot Suka sa Pure Tuba" ug banana chips, naka-survive ra gihapon mi. Dako kaayo ang tabang ng SLPA para makilaya ang akong produkto nga siyang pinagkuhaan nako karon ng kita sa pang adlaw-adlaw nga panginahanglanon (Because of the pandemic, livelihood is difficult. But with the help of the SLPA which I am supplying with "Hot Suka sa Pure Tuba" and banana chips, we were able to survive. The SLPA has helped me a lot in disposing of my products which is my main source for our daily expenses)."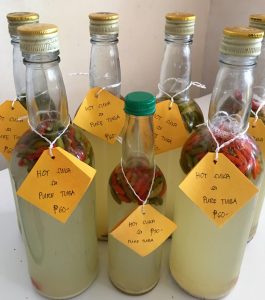 Through this initiative of the Mabua Silangan SLPA, these small entrepreneurs got to bring food to their tables and provide for the needs of their families. What started as a suggestion turned out to be the most convenient solution for the majority of the members of the SLPA with small-scale business.
Seeing the impact of their action, the SLPA plans to give more support to the SLPA members and other members of their community by venturing into micro-lending. They are aiming to finance SLPA members who wish to start or expand their thriving livelihoods. Tentatively, the Mabua Silangan SLPA eyes to realize this plan by January 2021.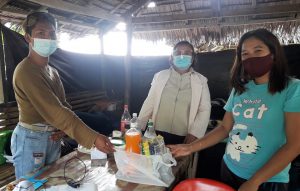 By supporting the local products, the Mabua Silangan SLPA hopes that they can motivate and shape the SLPA members and other members of the community to become financially independent and uplift their socio-economic condition.
Most importantly, the Mabua Silangan SLPA emphasized that showing empathy, kindness, and compassion to others is important. The association proved that helpful actions, as little as it is, can bring lifelong impact on people.
Supporting small businesses goes a long way. In the case of the Mabua Silangan SLPA and its members, it became one of the most notable factors for the members to survive in this major crisis.#