With the passage of Republic Act 11310 – "An Act Institutionalizing the Pantawid Pamilyang Pilipino Program (4Ps)", DSWD Field Office Caraga is conducting a simultaneous e-orientation and exchange forum with various Local Government Units (LGUs) from December 1-7, 2020.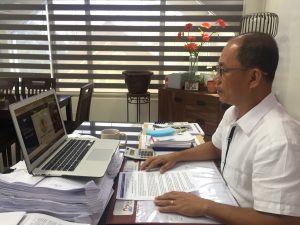 The forum, initiated by the Pantawid Pamilya Regional Program Management Office (RPMO), aims to level off the understanding on the provisions and salient features of the Act, and discuss the ways forward as to its guidelines, policies, and implementation in the grassroots with the various stakeholders.
Officer-In-Charge Ramel F. Jamen in his welcome message said that the LGUs play a major role in executing the said Act. "It is our pride to have been given the opportunity to foster our partnership with the executive arm of the Government, showcase our gains and recent updates in the Program, and address area- specific concerns in line with the new normal," Jamen said.
Even with the challenges posted by the new setting during this pandemic, the Program is working hand-in-hand with the LGUs in achieving a common goal – the improvement of the lives of its partner-beneficiaries (improvement of well-being), as indicated in DSWD's Organizational Outcome #1.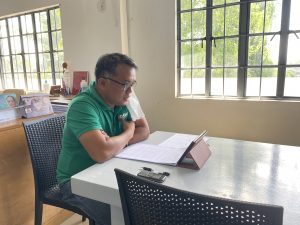 With the new Act, the partner-beneficiaries are given conditional cash transfer for a maximum period of seven (7) years to improve the health, nutrition, and education aspect of their lives. However, the National Advisory Committee (NAC) may recommend a longer period under exceptional circumstances.
"Knowing your LGUs, we can truly say that we have a similar vision – to achieve the goals of ending extreme poverty and building shared prosperity with the newly approved 4Ps Act," Jean Paul Parajes, Assistant Regional Director for Operations, said.
The exchange forum was also an avenue to revisit the performance of the LGUs in the implementation of the program. This way, good practices which has led to the success be continued/recommended, and focus on improving gaps that needs addressing to ensure success in the implementation.
The activity was attended by provincial governors, city/municipal mayors, city/municipal social welfare and development officers, RPMO staff headed by Regional Program Coordinator Crislea D. Celeste, and invited resource persons from the National PMO's Planning, Monitoring, and Evaluation Division.
After more than a decade (13 years) of the Program's implementation, the 4Ps Act was approved by Philippine President Rodrigo Duterte in April 2019, ensuring the continuity of the program's implementation. ###(Social Marketing Section/DSWD Field Office Caraga)