In its relentless efforts to capacitate and empower the grassroots communities by providing them with government-initiated livelihood interventions, the Sustainable Livelihood Program (SLP) of the Department of Social Welfare and Development (DSWD) Field Office Caraga has turned over a Frozen Products Store Project and Rent Shop and Tour Guiding Services Projects to two associations in Dapa and General Luna, Surigao del Norte, recently.
Recipients of these livelihood projects are the Ten Paint Center and Supplies SLP Association in Dapa and the White Sands Tour Guiding Services SLP Association in General Luna.
The Ten Paint Center and Supplies SLPA decided to venture into frozen products trading because there is an increasing demand for frozen goods and products on the island. Most of their expected customers are barbeque vendors situated at the bay walk of Dapa.
The Frozen Products Project, amounting to PHP491,700, includes starter kits, establishment of their store building, and skills training to equip the program participants with knowledge and skills on how to wisely manage and sustain their livelihood.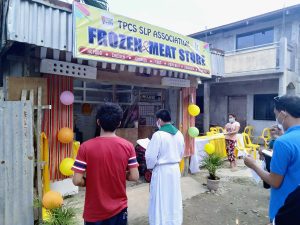 Members of the Dapa Sangguniang Bayan and barangay officials of Barangay Poblacion 10 came to witness the inauguration ceremony. They were joined by Dapa Municipal Social Welfare and Development Officer (MSWDO) Nancybelle Trazares.
In his acceptance speech, Ten Paint Center and Supplies SLPA President Cayo Jarligo shared how grateful he was to the DSWD and the Local Government Unit (LGU) of Dapa. Jarligo said that this project will help them improve their socio-economic wellbeing and use this to create an impact in their community.
"Kaya daghang salamat gayud sa DSWD-SLP ug sa mga tawong nga mitabang nga matigayon ang maong project namo (Thank you very much to DSWD-SLP and other people who helped us realize this project)," Jarligo expressed.
Meanwhile, the White Sand Tour Guiding Services SLPA opted to establish a Rent Shop and Tour Guiding Services as General Luna is the center of attraction for white-sand beaches and island hopping activities. The project costs a total of PHP191,657.
In partnership with the Department of Trade and Industry (DTI) – Caraga, the SLPA, which is composed of out-of-school youths, have also undergone training on Basic Customer Servicing Management.
White Sand Tour Guiding Services SLPA offers water activities such as island hopping and kayaking. They also have rentals such as outdoor tents, snorkel gears, speakers, and solar lamps which can be used during beach parties.
The turnover activity was attended by General Luna MSWDO Dave Francis Plaza. Also present during the activity were the barangay officials of Barangay Daku, SLPA officers and members, and SLP field staff.
The Sustainable Livelihood Program is the implementing arm of the livelihood interventions crafted by the DSWD. Aside from the provision of livelihood projects, the program also aims to capacitate and empower its program participants by equipping them with skills and knowledge through capacity-building activities.