DSWD Field Office-Caraga – The Department of Social Welfare and Development (DSWD) Field Office Caraga has served 168,163 qualified social pension beneficiaries for 2020 amid the threats and challenges brought about by the dreadful coronavirus pandemic.
The Field Office has disbursed Php983, 223, 000.00 as of December 29, 2020, distributed to 37, 879 senior citizens  in Agusan Del Norte, 42, 897 in Agusan Del Sur, 42,215 in Surigao Del Sur, 33, 348 in Surigao Del Norte, and 11, 824 in the Province of Dinagat Islands.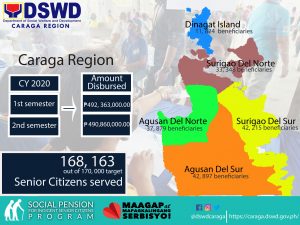 For 2020 the Field Office has a target of 170, 000 beneficiaries – about 3, 957 individuals were disqualified after having found to be deceased, transferred residence, beneficiary is not located, already has pension, received family support, etc.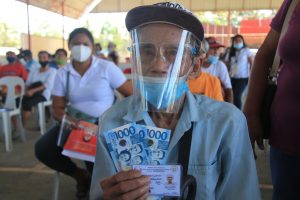 DSWD-FO Caraga assured adherence of safety and health protocols during the conduct of the payouts to lessen the exposure of the beneficiaries and personnel to the coronavirus disease.
The Social Pension Program is a government assistance of Php 500.00 monthly stipend distributed per semester, amounting to Php3000.00 for the first semester (January-June) and another Php3,000.00 for the second semester (July-December) which will be distributed in the municipality/city in a specific date scheduled by DSWD in coordination with the LGU.
Furthermore,  qualified senior citizens in this program are those 60 years old and above who are; frail, sickly or with disability, no regular pension from government (Government Service Insurance System (GSIS), Social Security System (SSS), Phil. Veterans Affairs (PVAO), Armed Forces and Police Mutual Benefit Association, Inc.), no permanent source of income, and no regular support from the family or relatives.