Over the past ten months, the cases of the COVID-19 pandemic skyrocketed all over the world. It has disrupted the way people live. However, the effects of the pandemic to the people living with disability is far more concerning.
Accordingly, persons with disabilities (PWD) are disproportionately impacted due to attitudinal, environmental, and institutional barriers brought by the pandemic. Others have also faced a greater challenge as a result of lockdowns and other regulations that distanced them form their founding support system – their families.
As the world celebrated December 3 as the International Day for Persons with Disabilities, the Department of Social Welfare and Development (DSWD) Field Office Caraga, together with the Regional Committee on Disability Affairs (RCDA), collaborated with their shared interest in raising awareness in building an inclusive world to everyone with disabilities, seen or unseen. The celebration bannered the theme "Building Back Better: toward a disability-inclusive, accessible and sustainable post COVID-19 World", underlining the importance of fostering an inclusive culture and responding to the urgent needs of people with disability in all aspects of society in times of pandemic.
Remaining true to its mandate of providing programs and services to vulnerable sectors of society, especially PWDs, DSWD FO Caraga, together with RCDA, catered lifechanging assistive devices to the vulnerable sectors. These devices include: Wheelchairs, crutches, hearing aids, and prosthetic legs.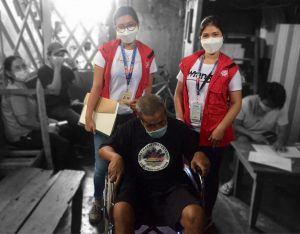 Teodoro B. Aranton
Teodoro, a 63 – year old from Cantilan, Surigao del Sur, a father of seven (7), who was once a cook and a fisherman, suffered a stroke in 2016, leaving him paralyzed from the neck down. Ever since, Teodoro found to be challenged by the lack of mobility and failure to perform basic functional activities such as walking, resulting to a sudden dependence for basic self-care and daily activities. Not letting his disability get in the way of his aspirations, RCDA and DSWD FO Caraga, gave Teodoro a brand-new wheelchair. "Salamat kaayo, salamat gyud!" (Thank you so much!), Teodoro said as he constantly expressed his gratitude towards the DSWD staff while trying on his new wheelchair.
Maria Dapo
Maria is a widowed mother of six (6) who is on her 60s, a resident of San Jose, Mainit Surigao del Norte. She suffered stroke ten years ago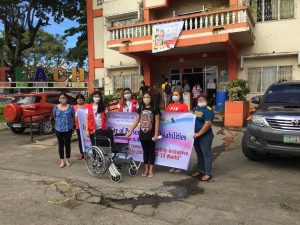 and was diagnosed with hypertension. Her condition progressed until she became bedridden leaving her daughter helping her for mobility. The family have been dependent from the support of her son-law-husband who is presently working as a laborer with only a meager amount of income. With limited proceeds, the family could not support Maria's medical needs.
Her daughter was able to request for a wheelchair from DSWD, hoping that it could help her mother's mobility. DSWD FO Caraga, with RCDA hastily scheduled a date to deliver the wheelchair to Maria. Even with the strict safety and health protocols imposed by the Provincial Government, the staff of DSWD and RCDA looked for ways to hand over the wheelchair to Maria's daughter at the Municipal Social Welfare Office. Maria's daughter offered the staff her warm smile with and sincerest thank you.
Teodoro and Maria were just a few of the many people with impairment whom DSWD FO Caraga and RCDA have helped.  With the aim to provide effective programs and services to the vulnerable sectors, DSWD seeks to continue their service in providing augmentation support for the assistive devices to people who are/have impaired vision, deaf/hearing-impaired, and orthopedically and physically challenged.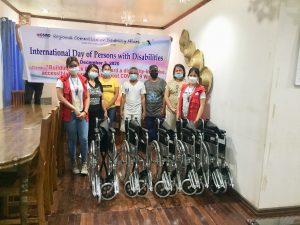 PWDs who want to avail the assistive devices may request for the augmentation support through the Focal Persons on Persons with Disability Welfare Program of the DSWD Field Office and should prepare documents such as: Intent Letter, Social Case Study report, Medical Abstract, Barangay Certificate, Full Body Picture, and Price Quotation (only applies for hearing aids and artificial legs). Clients who wish to avail assistive devices, but are living outside the province of Agusan del Norte, may ask for the City/Social Welfare and Development Office's assistance and may send their requirements online through sectoral.focaraga@gmail.com .
Although there are still some barriers and hindering factors in the part of Persons with Disability, DSWD hopes that these assistive devices would enable them to still function well in the mainstream in this critical time of  the new normal and enable them to continue being productive and contributing members of the society in this trying time.