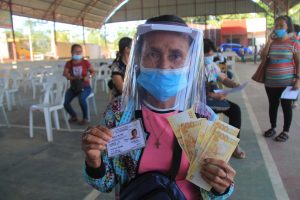 The Social Pension for Indigent Senior Citizens Program (SocPen) of the Department of Social Welfare and Development (DSWD) is in the midst of preparing for the 1st semester payout for calendar year 2021.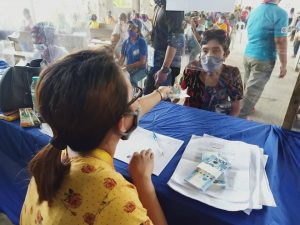 Part of the preparations is equipping and making workers adapt to the new normal setting brought about by pandemic for the payout process. Field Office Caraga is in the final stages of finalizing the payroll and validating for the waitlisted and deceased beneficiaries to come up with the final number of qualified beneficiaries for 2021.
"To ensure safety to both of the paymasters and beneficiaries and to lessen exposure and congestion during pay outs we will be using the clustering method. We entrust the clustering to the respective LGUs since they can distinguish well their locality", Ana T. Semacio, SocPen Focal Person said.
With the new set-up, beneficiaries will claim their social pension grants on the date and time to be set by the LGU to basically avoid congestion and to easily monitor the safety and health measures both for beneficiaries and paymasters.
According to Semacio, pay outs in each venue will take 2-3 days depending on the number of beneficiaries in the particular city/municipality. She also discouraged the beneficiaries who are not scheduled to refrain from going into the venue.
"Hopefully we'll be able to achieve 100% of our targets as to the timeliness of our services amidst this pandemic where we really have to adapt to changes", Semacio added.
Meanwhile, SocPen Project Development Officer I (PDO 1) Joyce Rojo reminds all the beneficiaries, not to forget their facemasks, face shields, and bring their IDs and blue ballpen during payouts and follow the health and safety protocols imposed.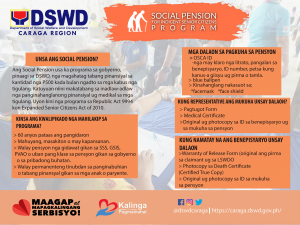 Moreover, in case the stipend will be claimed by an authorized representative due to the inability of the beneficiary (sickly/frail) to claim personally, the claimant must bring the "pagtugot" form with an original signature of the beneficiary and the Local Social Welfare and Development Officer (LSWDO), medical certificate, original and photocopy of the beneficiary and the authorized representative's ID. In case the beneficiary died, authorized representative needs to bring warranty release form, photocopy of death certificate, original and photocopy of the representative's ID.
Qualified indigent senior citizen beneficiaries are encouraged to conform with the new set-up and are encouraged to bring food and water to avoid any inconvenience during the process. The kick off for this semester's (January-June 2021) pay-out will be announced by the agency through official social media accounts, and through tri-media.