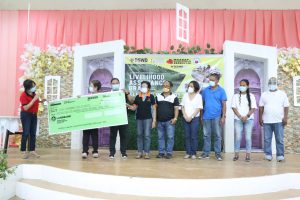 To help families whose sources of income were severely affected by the implementation of the community quarantine, the Department of Social Welfare and Development (DSWD) Field Office Caraga, through its Sustainable Livelihood Program (SLP) distributed the Livelihood Assistance Grants (LAG) to 4,745 families or a total of PHP54,423,797 in the region under Bayanihan 1 and Bayanihan 2.
The LAG is a financial assistance given to families belonging to the informal sector. The said program is stipulated in the Joint Memorandum Circular No. 01, Series of 2020, or the Special Guidelines on the Provision of Social Amelioration Measures by the National Agencies to the Most Affected Residents of the Areas under Enhanced Community Quarantine and it is part of the recovery phase of the social amelioration measures.
The distribution of livelihood assistance began during the third quarter of 2020. Prior to this, series of orientations and meetings with the concerned local government units were done by the SLP Regional Program Management Office to ensure having a proper and organized implementation of the project.
During Bayanihan 1, only major cities and municipalities per province were prioritized due to limited budget such as Tandag City (August 18) and Bislig City (August 26) in Surigao del Sur; Bayugan City (August 19) and San Francisco (August 27) in Agusan del Sur; San Jose (August 24) in Dinagat Islands; and Butuan City (September 18) in Agusan del Norte.
These areas were prioritized during the Bayanihan I due to the number of families gravely affected by the loss of income and jobs.
While in Bayanihan 2, a total of 14 municipalities were allotted with the LAG, namely: Barobo (December 14 and 22), San Miguel (December 14 and 22), Bayabas (December 18), Hinatuan (December 22), and Cagwait (December 22) in Surigao del Sur; Mainit (December 14), Claver (December 15), and Del Carmen (December 17) in Surigao del Norte; Prosperidad (December 22) and Trento (December 22) in Agusan del Sur; Tubay (December 18), Nasipit (December 23), and Carmen (December 23) in Agusan del Norte; and lastly, Basilisa, Dinagat Islands (December 22).
Other than these areas, there are still recipient municipalities under the 2020 fund that are yet to receive the LAG such as Tagbina, Bislig City, Lingig, Lianga, San Agustin, Cantilan, Cortes, Marihatag, Tago, and Madrid in the province of Surigao del Sur. These areas are categorized as municipalities For Late Release (FLR).
Further, the SLP-RPMO intends to distribute the remaining 2020-funded grants in these areas by the last week of February.
Rodolfo Peñaroyo, a LAG beneficiary from Cagwait, Surigao del Sur, shared how the pandemic affected his sari-sari store and the ways he did just to sustain his source of income.
"Aduna koy gamay nga tindahan. Katong kasagsagan sa community quarantine, naapektuhan gyud among panginabuhian. Medyo nakuha-kuhaan among mga tinda kay didto naman mi magkuha sa among pang adlaw-adlaw nga konsumo. Pero gipaningkamutan namo ma-balanse gihapon (I have a small merchandise store. During the implementation of the community quarantine, our livelihood was affected. Sometimes, we were forced to get supplies from our store for our personal daily consumptions. But we tried our best to balance our expenses)," Peñaroyo said.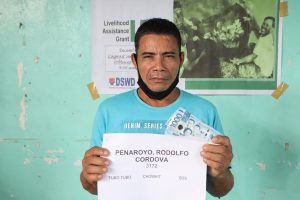 Meanwhile, in San Francisco, Agusan del Sur, most LAG beneficiaries engaged in the plants and gardening business. During the spot-monitoring of the SLP-RPMO, Hilda Incog, one of the beneficiaries, shared that she has been able to get back to business and has already been earning slowly from her plant business.
She shared her elation and gratefulness to the Local Government Unit of San Francisco and DSWD-SLP for helping their community and providing them with capital to ensure that they are able to recover from the crisis.
"Dako gyud akong pasalamat sa LGU sa San Francsico, ilabi na sa among mayor. Pati na sab sa DSWD-SLP sa ilahang tabang. Akong gigamitan sa assistance, gigamit ra gyud nako palit og bulak tanan para sa akong tindahan (I am very thankful to the LGU San Francisco, especially to our municipal mayor. Also, I would like to extend my gratitude to the DSWD-SLP for their assistance. I used the financial assistance I received to buy plants and flowers for my livelihood)," she said.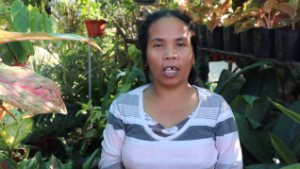 Currently, the DSWD FO Caraga – SLP is conducting series of orientations and consultations with the recipient LGUS for 2021. For this year, a total of 27 cities and municipalities will be distributed with the said financial assistance.
SLP is a capacity building program under the promotive services division of the DSWD which aims to provide poor, vulnerable, and disadvantaged sectors with various livelihood opportunities while empowering and capacitating them in the process.#