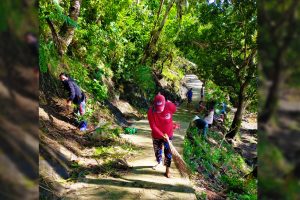 A total of 47,694 households in Caraga Region have benefitted from the disaster response community subprojects implemented by the Department of Social Welfare and Development's (DSWD) KALAHI-CIDSS program in 2020.
KALAHI-CIDSS or the Kapit-Bisig Laban sa Kahirapan – Comprehensive and Integrated Delivery of Social Services is one of the poverty alleviation programs of the government being implemented by the Department.
The 202 subprojects under the National Community-Driven Development Program (NCDDP) are implemented in 10 towns across the region, namely the local government units (LGUs) of Tagana-an, Placer, Malimono, and San Francisco in Surigao del Norte province; Dinagat, San Jose, and Basilisa in the Province of Dinagat Islands; and in Madrid, Bayabas, and Barobo in Surigao del Sur province.
A total of 7,165 household beneficiaries in Tagana-an were served; 6,695 in Placer; 4,521 in Malimono; 3,532 in San Francisco; 1,789 in Dinagat; 2,535 in San Jose; 4,056 in Basilisa; 4,356 in Madrid; 2,559 in Bayabas; and 10,486 in Barobo.
Due to the Covid-19 pandemic, KALAHI-CIDSS have adopted the Disaster Response Operation Procedure (DROP), allowing the program to shift from developmental activities into a disaster-response modality to immediately address health issues.
Some of the projects implemented under DROP are installation of quarantine facility, cash-for-work, procurement of disaster response equipment and communication devices, construction of communal hand wash facilities and sanitary toilets, installation of water system, among others.