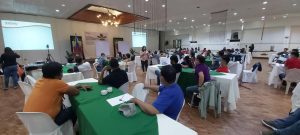 In its goal to provide more income-generating opportunities and livelihood development for the vulnerable and disadvantaged sectors in the region, the Sustainable Livelihood Program (SLP) of the DSWD Field Office Caraga recently conducted the SLP Regional Strategic Planning cum Orientation on New Guidelines at Balanghai Hotel and Convention Center, Butuan City on January 19 to January 21, 2021.
SLP Regional Program Coordinator Mary Ann Manla discussed and revisited the program's thrusts and priorities for the year. Physical and financial targets and lined-up activities were also disseminated by the SLP Regional Program Management Office among the field staff, led by their respective provincial coordinators.
For 2021, the program will be focused on implementing the following special projects and services: Livelihood Assistance Grant (LAG), Livelihood Settlement Grant (LSG), and Livelihood Referrals/Walk-ins. Other than this, the management will also be monitoring Payapa at Masaganang Pamayanan (PAMANA) projects and regular-funded projects that have already been implemented in the prior years.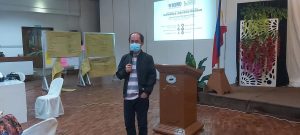 Further, the program also aims to heighten its efforts and initiatives towards the advocacy and promotion of the SLP associations and their products and services. Specifically, the SLP-RPMO eyes to strengthen partnerships with external partners, fabricate effective and creative marketing strategies, and upgrade or innovate SLP products and services.
After the two-day session focused on the program's 2021 implementation, the participants were also able to attend a session on Gender Sensitivity. The purpose of the session was to equip the regional staff with knowledge on pressing gender issues in the community and on how they should respond to them. Topics on discrimination and SOGIE were also covered during the discussion.
OIC-Regional Director Ramel Jamen and OIC-Asst. Regional Director for Operations Jean Paul Parajes graced the event. Each gave their message of support and encouragement and gave the staff an opportunity to raise administrative issues and concerns.#