The Department of Social Welfare and Development (DSWD) Field Office Caraga has started its first semester payouts for its Social Pension for Indigent Senior Citizens Program on January 27, 2021.
Being one of the critical programs of the agency which addresses the needs of one of the most vulnerable sectors in the country, Jessie Catherine B. Aranas, Protective Services Division Chief of DSWD Field Office Caraga emphasized the importance of the timely payout of the program.
"Since SocPen Fund has been downloaded from the Central Office early, we wanted to start the pay out as early as possible so our seniors would be happy to receive their pension earlier than usual," Aranas said.
Consequently, among all the DSWD Field Offices nationwide, Caraga is the first region to start its pay-out for the indigent senior citizens this early.
As of February 9, 2021, six municipalities (Santiago – 1, 190 paid beneficiaries, Kitcharao – 1, 192 paid beneficiaries, 1, 781 paid beneficiaries in Jabonga , 1, 549 paid beneficiaries in Tubay, 480 in Magallanes, and 1, 028 paid beneficiaries in RTR) have already been done with a number of 7, 220 total paid beneficiaries amounting to Php21, 660, 000.00. Validation and schedules of pay out for the rest of the provinces and municipalities under Caraga Region is on-going.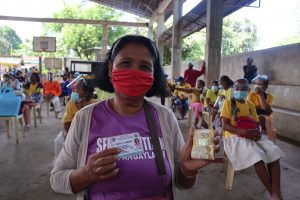 "So grateful ma'am for the early pension I have received. I thank the Lord and DSWD because now I can now buy my basic needs especially that I do have maintenance medicine for my diabetes," Nanay Lolita Porogoy, Social Pension beneficiary of Santiago, Agusan Del Norte shared.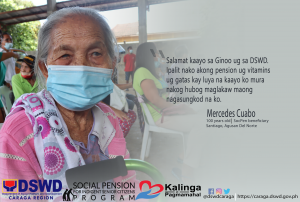 "Thank you Lord and DSWD, I'll use the money to buy my vitamins and milk, I am too frail.  I always have my rod with me to keep me from falling over", Mercedes Cuabo, 100 y.o Social Pension Beneficiary of Santiago, Agusan Del Norte also shared.
The Social Pension Program is a government assistance of a monthly stipend of Php500.00 given every semester (Php3,000 per semester). The program is the effort of the government to promote active ageing through social protection and support for the rights and welfare of indigent senior citizens and their empowerment.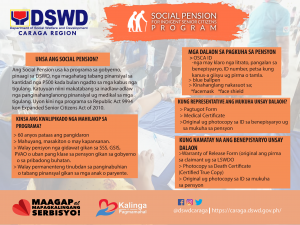 Also, the department is constantly reminding all the beneficiaries not to forget their facemasks, face shields, and bring their IDs and blue ball-pens during pay outs and follow the health and safety protocols imposed. And in case the stipend will be claimed by an authorized representative due to the inability of the beneficiary (sickly/frail) to claim personally, the claimant must bring the "pagtugot" form with an original signature of the beneficiary and the Local Social Welfare and Development Officer (LSWDO), medical certificate, original and photocopy of the beneficiary and the authorized representative's ID. In case the beneficiary died, authorized representative needs to bring warranty release form, photocopy of death certificate, original and photocopy of the representative's ID.