Though the conduct of the Family Development Sessions (FDS) has been suspended since 2020, the provision of timely and relevant information to the beneficiaries of the Pantawid Pamilyang Pilipino Program (4Ps) continue to reach the beneficiaries through the promotion of various FDS delivery modes.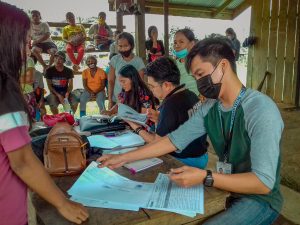 Based on the new 4Ps Operations Manual, FDS refers to appropriate monthly activities conducted with and attended by the grantee/s or responsible persons towards enhancing their parenting capabilities, thereby encouraging them to be more active citizens of the society.
The three FDS modes are online, offline, and on-air. The first mode utilizes the use of social media platforms such as Facebook, and Messenger, where the staff may share or post a topic, and the beneficiaries may access it individually in the comfort of their homes. The second mode is offline, considering that not all beneficiaries have social media accounts and no Internet access.
"The basa-pasa or wall-dikit is intended for beneficiaries with no social media accounts, no email, no cellphones, and no access to any radio or television stations. The FDS materials are handed to the beneficiaries by the 4Ps field workers. This is to ensure the compliance of the beneficiaries in one of the Program's conditions," Analiza Navia, regional FDS focal, said.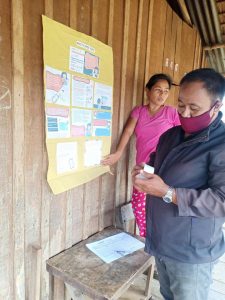 This is in line with the DSWD National Advisory Council Resolution #3 series of 2020 or the "Conditions for Entitlement to Cash Grants of Pantawid Pamilyang Pilipino Program Beneficiaries during the New Normal/COVID-19 Pandemic."
The printed materials are posted in strategic locations in each area, wherein the parent leaders are mobilized to help in the dissemination of the FDS topic for the month. After handing the materials, the beneficiaries are required to submit their journal, and requested to sign the attendance sheet.
The third mode is FDS on-air and/or live streaming. Tapping local partnerships with radio and television stations are done for the dissemination of FDS topics. Through this, the topics are discussed over radio and/or TV to reach not just the beneficiaries, but also the general public as well.
In the absence of the approved guidance notes from the National Program Management Office, the Regional Program Management Office of 4Ps Caraga has crafted the Regional Interim Guidance Notes to serve as the basis in conducting the monthly learning sessions abiding with the minimum safety measures and community quarantine protocols. ###(Social Marketing Section/DSWD Field Office Caraga)