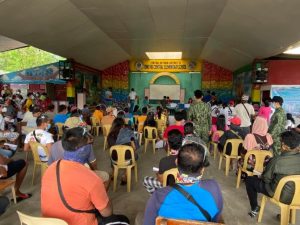 About 248 Internally Displaced Persons (IDPs) in Butuan City affected by fire incidents in 2020 received livelihood assistance from the Department of Social Welfare and Development (DSWD) Field Office Caraga to finance their preferred livelihoods or rehabilitate their existing livelihoods, earn a stable income, and provide for their families' needs.
The said beneficiaries were identified victims of the fire incidents in Barangay Ong Yiu, Mahogany, and Fort Poyohon.
DSWD administered the distribution of livelihood aid to the household beneficiaries through its Sustainable Livelihood Program (SLP) – one of the Agency's core poverty programs which focuses on the provision of livelihood interventions to poor, vulnerable, and disadvantaged individuals, families, and communities.
The 248 beneficiaries each received an amount of PHP20,000 as their seed capital fund or a total of PHP4,960,000 from the DSWD-SLP. With this amount, the Agency hopes that it will help the beneficiaries to get back on their feet and rebuild their lives.
In light of the provision of financial assistance, the IDPs are also given the option to choose and propose their desired small businesses which are then assessed by the DSWD-SLP and the local government units (LGUs). These actions are taken by the Agency to ensure that the beneficiaries are able to attain a fit and sustainable livelihood and to become self-sufficient.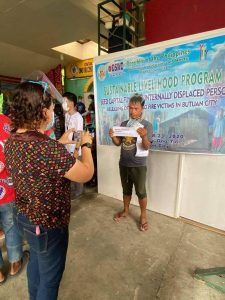 Among the small businesses proposed by the beneficiaries were sari-sari stores, balut stalls, ready-to-wear (RTW) stores, and dried woods shops.
Currently, the progress of the projects is being closely monitored by the SLP staff and LGU Butuan City. The IDPs will also be provided with technical assistance to guarantee that their livelihood will be long-term and successful.
For 2021, the DSWD-SLP will continue extending financial assistance to more IDPs in the provinces of Agusan del Norte, Agusan del Sur, and Surigao del Sur. As a matter of fact, the Program has already started conducting payouts in some areas.
Last February 5, fire victims from Barangay San Ignacio, Butuan City have already been served with livelihood assistance. While on February 9, IDPs residing in San Francisco and Bayugan, Agusan del Sur have also been granted financial aid.
Aside from these areas, beneficiaries from Surigao del Norte also received the same cash assistance from DSWD-SLP last February 11.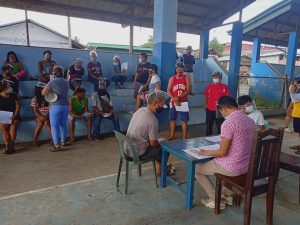 Later this month, beneficiaries In Lianga and Barobo, Surigao del Sur are also set to receive the same assistance from DSWD.
SLP Regional Program Coordinator for Caraga Region Mary Ann Manla said that the Program is doing its best to expedite the disbursement of the funds and to ensure that the beneficiaries are able to acquire the help they need in setting up their livelihood projects.
"Rest assured, the DSWD FO Caraga-SLP is exerting its best efforts to provide quality service to our people. And providing the best for our people will also require a very tedious process to make sure that the funds go to those who are really in need. Hence, we also hope that the beneficiaries understand the measures we need to take in helping them. We want people to know that their welfare is in the best interest of our hearts and we are an Agency 'Na May Malasakit'," Manla said.
Internally displaced persons are not only limited to fire victims, but they also refer to individuals or families that have been displaced by other natural or human-made disasters, armed conflicts, and violent situations or circumstances.
Aside from being the lead implementing arm in providing livelihood interventions for indigent and marginalized communities, SLP also intends to capacitate and empower its beneficiaries through socio-economic opportunities and activities.#