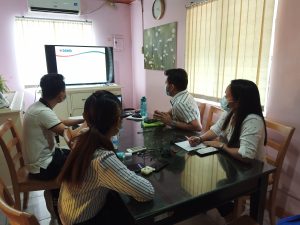 To respond to the challenges imposed by the pandemic to the lives children needing special protection and care, the Department of Social
Welfare and Development (DSWD) Field Office Caraga conducted the first virtual Adoption and Foster Care Forum for 2021, led by the Adoption Resource and Referral Unit (ARRU) on January 25, 2021.
With the desire to increase the number of adoptive parents in the region, the Field Office reinforced alternative strategy to convey the importance of adoption and foster care, especially to the far-flung areas. Through Google Meet, the would-be adoptive and foster parents were provided with first-hand information on Republic Act 11222 and the guidelines to the Alternative Family Care Program.
The main objective of the forum is to provide information to the would-be adoptive and foster parents on the correct procedure of alternative family placement. The forum also aims to thresh out concerns for the agency to provide appropriate actions.
Legal process of adoption ensures children's welfare as they will be placed permanently to a family environment giving both the adoptive parents and adoptee equal rights and obligations similar to those enjoyed by biological parents and their children. Foster care, on the other hand, is providing planned temporary substitute parental care to a child by a foster parent or a foster family for them to grow in a family rather than in a residential care facility.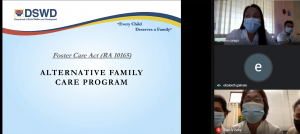 One of the would-be adoptive parents participated in the forum together with her would-be adoptee. "Maayo ning naa siya kay para makasabot ming duha sa among mga katungod, ug salamat pud kaayo kay karon naklaro gyud namo among mga pangutana (It's nice to have her here with me so both of us will know our rights, now everything is clear and my queries have been answered and I am extremely grateful for that)," she said.
Due to the Department's strong conviction that every child needs love and care now more than ever, the Field Office will continue extending the Adoption and Foster Care Forum, via online, every last Monday of the month. Social media cards, together with the link to access the forum, will be posted to the official Facebook page of DSWD Field Office Caraga, prior to the event. Everybody who is interested to learn the process on Adoption and Foster Care is welcome to join. For more concerns, interested applicants may contact 09301410330.