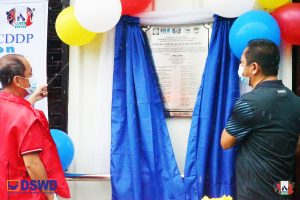 To provide assistance to the communities for the management of Covid-19 pandemic, the Department of Social Welfare and Development (DSWD) turned over on Thursday, February 18, the 186.6-square meter quarantine facility to Barangay Tambis in Barobo town, Surigao del Sur.
The facility, which costs Php2,363,136, is a subproject implemented through DSWD's KALAHI-CIDSS program, together with the Municipal Government of Barobo and community volunteers in Barangay Tambis.
Completed in October 2020, just two months after the start of its construction, the quarantine facility is expected to serve some 7,093 individuals or 1,511 households in the said village. It is complete with a nurse station and three isolation rooms. Each isolation room has a three-bed capacity, a restroom, and a lavatory.
Due to the pandemic, KALAHI-CIDSS have adopted the Disaster Response Operation Procedure (DROP), allowing the program to shift from developmental activities into a disaster-response modality to immediately address health issues.
During the turnover ceremony, DSWD Field Office Caraga OIC-Regional Director Ramel F. Jamen congratulated the people behind the project, especially the "heroic" role of the community volunteers.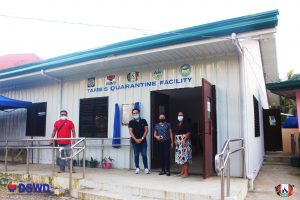 "Pasalamatan nato ang heroic nga papel sa mga volunteers. Kabalo mi sa inyong kahago ug pag-gahin og panahon. Importante inyong papel dinhi sa implementation sa project (Let us thank the heroic role of the volunteers. We know your hard work and time spent for the project. Your role in the implementation of this project is important)," Director Jamen said.
Director Jamen cited the Community-Driven Development (CDD) process used by KALAHI-CIDSS and the unity in the community to the success of the project implementation.
"Inyong panaghiusa nagpamatuod nga kaya ninyo gampanan ang trabaho. Job well done tungod kay nindot ang facility (Your unity is proof that you can do the work. Job well done because the facility is outstanding)," the director told the community.
"Ang konsepto sa Kalahi nag sunod sa CDD process. Amo giduso nga mahimong balaod (ang CDD) so that sa tanang proyekto nga ipahigayon sa gobyerno nga community projects kinahanglan mosubay ani nga proseso (KALAHI-CIDSS follows the CDD process. We're pushing that the CDD Bill would become a law so that all government projects in the communities will follow the said process)," Director Jamen added.
Barobo Municipal Mayor Joey Pama expressed his support and gratitude on Thursday to the DSWD and KALAHI-CIDSS for the projects and services in their town.
"I commend the KALAHI-CIDSS and DSWD for providing projects and service that benefits the community," Mayor Pama said.
"I really love to support the KALAHI CIDSS NCDDP. We want the KALAHI-CIDSS to continue its projects with the local government unit," the mayor added.
KALAHI-CIDSS or the Kapit-Bisig Laban sa Kahirapan – Comprehensive and Integrated Delivery of Social Services is one of the poverty alleviation programs of the government being implemented by the DSWD. (With reports from Area Coordinator Christian Joe Anipan)