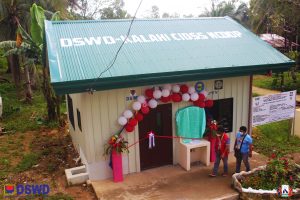 Four more Covid-related projects worth more than Php5.2 million were turned over to the municipality of Barobo town in Surigao del Sur province this week as the government continues its effort to address and mitigate the effects of the Covid-19 pandemic.
The Department of Social Welfare and Development (DSWD) Field Office Caraga has turned over two quarantine facilities on February 23, and two retrofitting of multi-purpose buildings for quarantine facility projects on February 24.
The subprojects are under DSWD's Kapit-Bisig Laban sa Kahirapan – Comprehensive and Integrated Delivery of Social Services – National Community-Driven Development Program (KALAHI-CIDSS NCDDP), which shifted to the Disaster Response Operation Procedure (DROP) to address needs of the communities during this pandemic.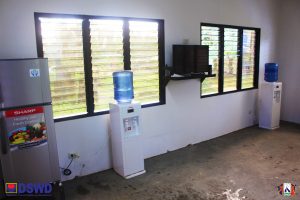 On Tuesday, February 23, DSWD turned over a quarantine facility for senior citizens in Barangay Amaga. The facility, which costs Php887,508, is expected to serve 642 households in the said village.
On the same day, KALAHI-CIDSS turned over a 32.1 square-meter quarantine facility worth Php1,170,189 in Barangay Javier. It is complete with a restroom, rainwater collector tank, six folding beds with foam, two water dispensers, two electric fans, a refrigerator, a smart TV and monobloc chairs.
"Nagtapok kita karung buntaga para i-inaugurate ang usa ka proyekto sa DSWD nga mohatag og relief ug motubag sa panginahanglan ning panahon sa pandemya (We are gathered here this morning to inaugurate a project of DSWD that will give relief and answer to the problems brought about by the pandemic)," OIC-Assistant Regional Director for Operations Jean Paul S. Parajes said.
"Covid-19 is still a very serious threat today. So instead sa regular implementation, DSWD's KALAHI-CIDSS program shifted/adopted the Disaster Response Operation Procedure/Modality para motabang sa mga komunidad batok sa pandemya (that would help the community combat the pandemic)," Parajes added.
The facility will serve 770 households or 3,803 individuals in Barangay Javier.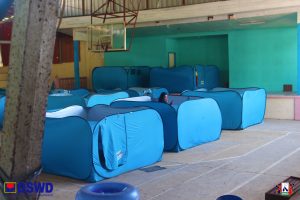 "The community decided to construct a quarantine facility arun ang mo-uli sa Javier naay kapuy-an before mouli sa ilang tagsa-tagsa ka panimalay (so that those who will come home to Barangay Javier will have somewhere to stay before they are allowed to go home)," Barangay Javier Chairperson Jemar Credo said.
"Akong pagpaabot akong pasalamat sa DSWD for this blessing. Salamat sa mga KALAHI staff sa inyong effort. Daghan kaayo kog lessons learned ani nga building (May I extend my gratitude to DSWD for this blessing. Thank you KALAHI staff for your effort. I have a lot of lessons learned during the construction of this building)," Credo added.
On Wednesday, February 24, KALAHI-CIDSS also handed over to Barangay Poblacion the Php1.7-million subproject that would benefit 2,609 households. The project is a retrofitting of their multi-purpose building which will serve as a quarantine facility. Roofing of Barangay Poblacion's multi-purpose building was all replaced and repaired. Insulators and ventilators were also installed. The second floor of the barangay hall was also repaired so it will be used as a quarantine area.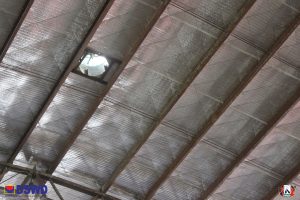 KALAHI-CIDSS also provided amenities and other health consumables to Barangay Poblacion worth Php917,449. These amenities include a refrigerator, a stove, LPG tank, four industrial fans, a portable generator set, smart TV, a water dispenser, a fire extinguisher, 26 modular tents, 26 folding beds, monobloc chairs, and 6 rapid test kits.
"Tungod kay pandemic man, gi-haom ang plano nga mapuslan sa atong mga igsuon nga balik probinsya. Kaming mga volunteers, malipayon kami ug mapaslamaton sa scheme nga gigamit sa KALAHI-CIDSS NCDDP tungod kay nahatagan kami'g dakong katungod sa pagimplemtar sa mga proyekto nga gi-grant kanato dinhi sa Barobo (Due to the pandemic, the project was fitted so that it will benefit our fellow returning Barobonons. We, the volunteers, are happy and thankful to the scheme used by KALAHI-CIDSS NCDDP because we were given rights to implement projects that were granted to us in Barobo), Barangay Sub-Project Management Committee (BSPMC) Chairperson Gemma Solana said.
The same subproject – retrofitting of multi-purpose building for quarantine facility – was turned over to Barangay Dapdap on Wednesday. The project, which costs Php485,586, includes installation of facade roofing and spandrel walling.
Barobo Municipal Mayor Joey Pama and Vice Mayor Allan Bernal, who both graced all the inauguration and turnover ceremonies, were all thankful for the projects, saying: "the municipality of Barobo will always support DSWD KALAHI-CIDSS."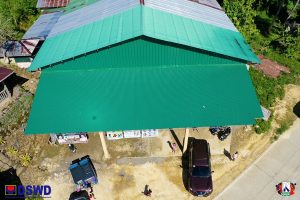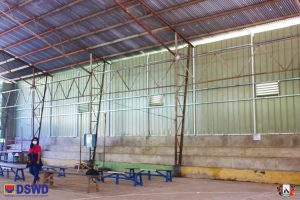 KALAHI-CIDSS is one of the poverty alleviation programs of the government being implemented by the DSWD. Community-Driven Development (CDD) Approach used by KALAHI-CIDSS ensures development priorities are addressed in a participatory, collective, inclusive, and in demand-driven way.
"This project is a testament that by working together (or kapit-bisig) we can accomplish great things. Mao kini ang tumong sa KALAHI-CIDSS nga mo-participate, magkahiusa, ug ma-empower ang mga katawhan alang sa kalambuan sa komunidad. (This is the goal of KALAHI-CIDSS that the people will participate, be united and empowered for the development of their community. Indeed, through Community-Driven Development, we rise and develop as one," assistant director Parajes said. (With reports from Area Coordinator Christian Joe Anipan)