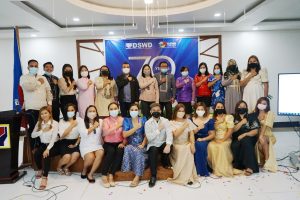 The hall was filled with cheers as the Department of Social Welfare and Development (DSWD) Field Office Caraga was in the limelight during the recently concluded DSWD 70th virtual Anniversary celebration on January 29, 2021.
The Field Office bagged two national awards during the 2020 Program on Awards and Incentives for Service Excellence (PRAISE) Awarding Ceremony – the Pantawid Pamilyang Pilipino Program (4Ps) Regional Program Management Office (RPMO) Caraga was Awarded National Best Operations Office, while Convergence Action Team (CAT) of Bayugan City was hailed National Best Convergence Action Team.
The 4Ps RPMO Caraga, has consistently achieved a perfect 5 Office Performance Contract (OPC) Rating last 4 years of its operations (2016-2019). The team is also now working on its 5th year vying for another perfect 5 OPC rating for 2020, even with the challenges of the pandemic.
"This is a crowning glory for the Field Office because we are now reaping the triumphs which we persistently planted. Having these awards means that we have stayed true to our commitment in serving our beneficiaries, with the continuous help from our partners, and compassion from our workers especially in the field," Officer-in-Charge Ramel Jamen, said.
In spite of enormous challenges over the years, 4Ps Caraga has constantly strived to rise above the challenges in the program's implementation. The 4Ps workers have committed themselves to service excellence no matter the cost. Improving the lives of the beneficiaries has been the core of the program's operations through the provision of cash grants and other complementary services.
On the other hand, the CAT of Bayugan City, Agusan del Sur has shown the "Nagkahiusang Bayuganon (United Bayuganon)" spirit in their service, especially in the implementation of the various programs and services of the Department in the said City.
Eddie Pacaldo Jr. , Pantawid Pamilya City Link (CAT Bayugan team leader), expressed his gratitude to the Field Office management for the continued support and strengthened collaboration with the Local Government Unit of Bayugan City.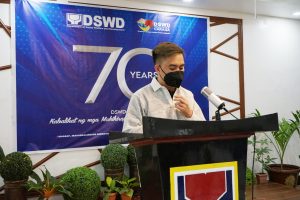 "The year 2020 was, needless to say, one of the most challenging times especially for us workers directly involved in the community. Yet our doubts were surmounted by the encouragements and reassurance from significant people who witnessed our passion and determination. To this reason, we would like to celebrate this victory with DSWD top management, LGU Bayugan, and our beneficiaries," Pacaldo said.
Pacaldo shared a true testament of how far a genuine partnership can benefit different sectors, especially those who need social welfare and protection.
Other national winners and finalists for Field Office Caraga during the 2020 PRAISE awards are the following:
• Best Center-Based Social Worker – Ms. Anecita Amparo (1st Runner-up)
• Best Technical Social Worker – Ms. Melanie Juan (1st Runner-up)
• Best Social Amelioration Program Implementation (1st Runner-up)
• Best Technical Staff – Aldie Mae Andoy (Finalist)
The PRAISE or the Program on Awards and Incentives for Service Excellence is designed to encourage creativity, innovativeness, efficiency, integrity, and productivity in the public service by recognizing and rewarding officials and employees, individually or groups, by providing incentives and rewards for their suggestions, inventions, superior enhancement, efficiency, economy or other improvement in government operations/service. ###(Social Marketing Section/DSWD Field Office Caraga)