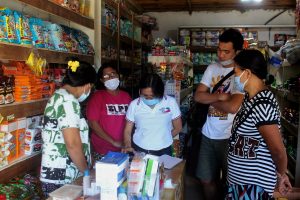 The world of work has been changing so much and drastically over time.
Along with the many developments in the world of work, the roles of men and women have also been modified and improved as well. Many women have stepped forward and proved that they are capable of what men can do – may it be in their homes, work, or society. The bettered dynamics in the work and business world have provided more opportunities for women to shine and stand out.
In Siargao Island, two women's SLP associations have stepped forward and created an impact in their community by taking the huge responsibility of running their respective businesses.
These women showed that any job can be a woman's job.
Union Federated Entrepreneur Sustainable Livelihood Program Association
The Union Federated Entrepreneur Sustainable Livelihood Program (SLP) Association, located at Barangay Union, Dapa, Surigao del Norte, did not start out as a full-fledged women's association.
When the association began in 2016, they were led by a male president. But due to some circumstances, the association president stepped down and was replaced by Precila Pontevedra – one of the female members of the association.
Since then, the association has been run and the composition of members drastically changed.
Union Federated Entrepreneur SLPA was only given over PHP370,000 as seed capital fund for their general merchandise store. The group opted to establish a merchandise store because their barangay is located quite far from the town proper of Dapa. The group would have to spend PHP200 for their fare.
During the early months of their operation under the leadership of Precila, the association had to undergo a lot of pressure and adjustments. From purchasing, to inventory, and down to accounting, the women members had to burn candles at both ends to ensure that the business ran smoothly.
"Naningkamot gyud kami nga ma-improve among proyekto kay kabalo mi nga para gihapon ni sa among karajawan (We really put our efforts to improve our project because we knew that what we are doing for the project is for our own benefit)," Precila said.
Four years and few a months later, the SLPA's general merchandise store is still growing and expanding. In fact, the association has also engaged in selling some hardware materials, ready-to-wear (RTW) goods such as slippers, and rice.
But last year, when the municipality of Dapa imposed the community quarantine, the association said that somehow, it affected their sales. Because many people lost their jobs, there were lesser customers.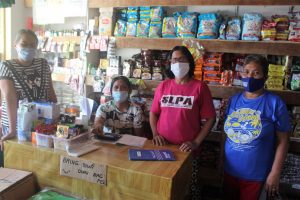 So in December, they came up with a few marketing strategies to improve their sales. They initiated buy one, take one gimmick, and sold items with free stuff or freebies. These contrivances enticed customers and many people in their community chose to purchase their holiday needs at the SLPA's general merchandise store.
Now, Precila and her team have a plan to buy a point-of-sale (POS) machine so that they can record sales or do product inventory easily and efficiently. She also said that they will continue to work hard and expand their general merchandise store.
"Kami padayon nga maningkamot nga paninduton ug padakuon pa ang among tindahan. Para mabuhat na namo ang among plano nga magpalit og kaugalingon nga yuta. Daghang salamat sa inyong tabang, DSWD-SLP (We will further persist to boost and widen our business so that we can execute our plans such as buying our own lot. Thank you for your help, DSWD-SLP!)," Precila shared.
Sapao Sustainable Livelihood Program Association
In 2019, another women's association in the Sta. Monica, Surigao del Norte took their community by surprise when the group decided to start a hardware supply store as their SLP-funded livelihood project.
The Sapao Sustainable Livelihood Program (SLP) Association has to bear with the doubts of some people in their community about managing the said project. People thought that a hardware store was more suitable to be managed by men. But instead of allowing these comments to discourage them, it became their fuel to work harder.
Most importantly, the members of the Sapao SLPA invested much of their efforts in their project because they saw the dire need of their community for a hardware store. They wanted to help folks in their community to have easy and cheaper access to hardware supplies which they need in building or repairing their boats and houses.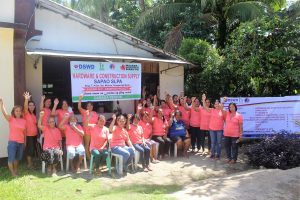 Since opening in 2019, the association's daily income would range from PHP2,000-PHP15,000. Even neighboring municipalities would visit and purchase items from their store as it was nearer to them, compared to the hardware stores located in the municipality of Dapa.
To ensure that everybody was involved in managing the business, all members would take turns in watching the store. In return, members would get a share of PHP1,500 from the income of their project.
Avie Nogaliza, one of the members of the Sapao SLPA, shared that the project has made a change in their lives since it had been realized. "Dako gajud ang kalahian kay sukad kami nagka-project, anytime na kami mangahinanglan sa amo bayay, jaon na kami makuhaan. Labi na karon nga nag-pandemic, naa sab mi nakuhaan sa among mga pang-adlaw adlaw (There has been a big difference since we got involved in this project. Whenever we are in need, we now have something to run to. During this time of the pandemic, we already have a source for our daily expenses)."
Another Sapao SLPA member, in the person of Marissa Comon, testified that she realized women were not only meant to become housewives and be restricted to the four corners of their homes. She said that women were meant for a greater purpose in the community.
"Sauna bayay ra man ang asawa. Kuman dili na lang ang bana mangihas, pati na ang asawa dugang na sab sa kalisod sa panahon. Duha na jud kamo mukayod. Jaon man amo shareout, so makatabang-tabang na gajud kami sa among mga pamilya. Dili ra diay pang-balay ang kami nga mga nanay, kami mga babae (Before, wives were expected to only stay at home. Now, especially during these challenging times, wives have already become our husbands' partners in making a living. With our shareout from our project, we are already able to help our families. I realized that women, including mothers, are not solely limited to our homes)," Comon remarked.
Women on the go
It is unquestionable that these women are the epitome of how women's roles changed over time. With the right opportunities, women can excel and show that they have the most striking skills and nifty abilities to perform any job in the community.
As the SLPA members describe it, SLP has given the opportunity to explore their potentials and become more actively involved in the development of the community. Through the program, they understood that they were always bound for something more.
Now, there's no stopping these women from becoming better and seeking more opportunities for themselves.