BUTUAN CITY- Creating a gender equal world is challenging, yet even more challenging when a pandemic is affecting the world. In this challenging time dubbed as New Normal, the Department of Social Welfare and Development (DSWD) FO Caraga, through the Protective Services Division (PSD), has proven that not even a universal outbreak can pause the movement of Women Empowerment.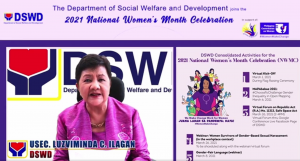 Clad in Purple, DSWD workers, together with different partners/stakeholders such as the Regional Gender and Development Committee (RGADC) – Caraga, and the Philippine Commission on Women (PCW), joined the kick- off of the National Women's Month Celebration, via zoom, last March 1, 2021 bannering the theme "We Make Change Work for Women, Juana Laban sa Pandemya: Kaya!". Purple is globally recognized as the color of women which symbolizes justice and dignity.
Atty. Jerefe D. Tubigon-Bacang, Regional Development Council (RDC) – RGADC Chairperson and Commission on Human Rights (CHR) Regional Director, warmly welcomed all participants during the regional kick-off of the NWM celebration, initiated by the RGADC-Caraga. "Modern Heroes kung tawagon nato sila. Ang ilang kaisog, ilang conviction ug pagsakripisyo sulod ug gawas sa ilang panimalay, dili gayod kabayran. Kini kinahanglan natong ilhon ug pasidungan aron ang ilang pagkabayani dili mapapas sa pagdagan sa panahon." (We call our women Modern Heroes. Their courage, conviction and sacrifices that shine through their own homes and out, is not compensable. Hence, we all shall recognize and honor them so their heroism will always be remembered from this day forth.)  she emphasized.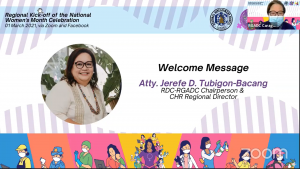 The Women's Month Celebration served as a venue to highlight women's achievements and to discuss continuing and emerging women's empowerment and gender equality issues and concerns, challenges, and commitments. In the Philippines, the celebration focuses on concrete activities that are aligned with national and international instruments and treaties such as the Convention on the Elimination of All Forms of Discrimination Against Women, the Beijing Platform for Action, the Philippine Plan for Gender-Responsive Development (1995-2025), the Framework Plan for Women, and the Sustainable Development Goals.
Signed by the former President Corazon C. Aquino on March 1, 1988, through the Proclamation No. 224, our country affirmed to recognize Filipino women's contribution in the struggle for national independence, civil liberties, equality, and human rights.
With the government's effort to improve and strengthen the implementation of the Magna Carta for Women (MCW), DSWD plotted various activities to further intensify the empowerment of our modern Juanas. One of the highlights is the launching of Project Tulong-tulong Upang Bantayan Ang GBV Cases, otherwise known as TUBAG, which is an 8-hour GBV Help Desk manned by the Technical Staff in the Field Office.
To give tribute to the extraordinary women with extraordinary roles in the fight against Trafficking and other GBV cases in the region, DSWD, together with the Regional Inter-Agency Committee on Anti- Trafficking – Violence Against Women and their Children (RIACAT-VAWC) will also launch a WOMENTUM highlighting the #JuanaBidaKaSaCaraga. Finally, a one-day event called KORAMBUSAN will be held for Trades Fair, Fun and Frolics as part of the culminating activity of the celebration.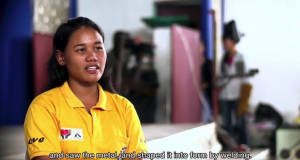 Whether you are a government official or employee, or a member of a private sector, the academe, or even a non-government organization, DSWD FO Caraga encourages everyone to help, in whatever capacities and means, in paving the way for an enabling environment for modern Juanas to be empowered, so that women will not be left behind in the pursuit of change, even in this time of New Normal.