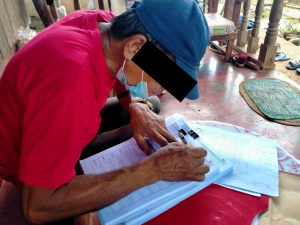 Life in hiding, especially when it constantly puts your life at maximum risk, is very hard to live.
Hence, when a door leading to a new and peaceful life opened for "Alfie" and other former rebels, they boldly decided to renounce the principles they once embraced.
Alfie (not his real name), is one of the former rebels from Agusan del Sur who surrendered to the government. Despite the perils brought by his decision to return to the government, Alfie fearlessly took the risk with the desire of achieving a safer and peaceful life for himself and his family.
As part of the measures crafted by the National Government to help former rebels (FRs) rebuild their lives, each FR, once deemed to be eligible, is given the opportunity to receive the Livelihood Settlement Grant (LSG) amounting to PHP20,000. LSG is a special program by the Department of Social Welfare and Development's (DSWD) Sustainable Livelihood Program – the Agency's arm in implementing livelihood interventions for poor, vulnerable, and disadvantaged sectors.
Through this special program, Alfie was able to receive such an amount on September 22, 2020, and started a hog-raising business. He was able to buy six piglets, sacks of feeds, and construction materials that were needed to build a pigpen.
As he started his small business, Alfie and his whole family were very excited and overwhelmed.
Sadly, in November 2020, Alfie had to sell five of his pigs for PHP20,000 as some of the pigs became ill and he did not have enough budget for the feeds anymore.
But this did not stop Alfie from recovering from his losses. With the income he acquired from the five pigs he sold, he bought another eight piglets. In January 2021, he was able to sell eight heads of pigs for PHP26,500. Sales from his second harvest helped him buy food for his family and finance his daughter's job application documents. In addition, he was also able to buy another batch of piglets.
At present, Alfie has now 10 crossbreed heads of pigs and aims to have his third harvest in May 2021.
With all the benefits they received, Alfie and his family are very grateful to the National Government, particularly to the DSWD-SLP. He said that with all the help they got, he realized that he appreciated more this kind of life – a better and quieter life. His former life, the life in hiding, was nothing compared to his disposition today.
"Kauban sa akong pamilya, dako akong pasalamat sa gobyerno, labi na sa DSWD-SLP sa pagtabang kanako sa paghatag og livelihood project ug sa paghatag kalinaw sa akong huna-huna (Together with my family, I am hugely indebted to our government, especially to the DSWD-SLP for helping me start anew by granting me a livelihood project and giving us a peaceful mind)," Alfie said.
Indeed, it has really been a fresh start for Alfie and his family. He hopes that in this new life, he will be able to inspire his former comrades who are still championing his old ideologies, to also choose the new path he has taken.