There is no greater loss than the loss of a loved one; especially losing a partner during the COVID-19 pandemic.
After her husband, Christopher Betonio succumbed to kidney failure in February 2020, the 39-year old Jeneveve was devastated. She barely knew what she was going to do.
"Ang ahong huna-huna napuno og mga pangutana. Nganong nahitabo mani sa aho? Kaya ba kaha naho nga ako ra? Unsaon man naho pagpadako among mga anak? (My mind was filled with a lot of questions. Why did this happen to me? Can I really do it by myself? How will I raise our children?)," she asked.
The hardest time by far
Looking back at her struggles, she considered her husband's death as the hardest by far.
Growing up in a quiet barangay in Malimono, Surigao del Norte, Jeneveve understood how hard life was when she has to stop her secondary education because her mother was ill. Due to lack of financial capacity, she worked as house help to her aunt, and earned P500 a month.
Unfortunately, her mother passed away a month after she started working in Manila. She needed to save for her siblings so she stayed and worked. After a year, she returned to her barangay in Can-aga to pursue her studies. To no avail, she was again forced to stop and travel back to Manila to look for a job – her siblings were relying on her. She worked for almost two years in a garment company called Monte Cielo Marketing where she earned P75 a day.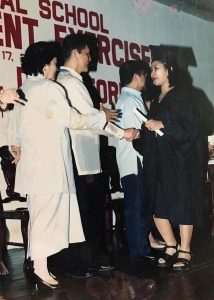 When she was able to save some money, she decided to pursue her studies again. In 1999, she took an Information Technology vocational course at the Polytechnic University of the Philippines – she was working that time while studying. At that time, she already transferred to Ghytan, sister company of Monte Cielo Marketing, where she was already earning P3,000 a week.
After finishing her two-year vocational course while working for a garment company, she decided to work for a gasoline station as a cashier where she was paid P120 a day. This is also where she met Christopher, a kababayan from her neighboring barangay in Malimono.
To cut the story short, their love blossomed. They went back to their hometown, and got married in 2003.
The happy moments recalled
For Jeneveve, that was the start of her fairytale. They were blessed with two children, Claive James and Clent Jay.
Claive James, 17, is studying at Northern Mindanao Colleges in Cabadbaran City as a Grade 12 student, while Clent Jay, 16, is now a Grade 10 student at Pili National High School. Even though life was hard, they have managed to get through it, as she also has supportive parent-in-laws.
"Nakadumdum ko nga misugilon akong anak sailang Lola nga perminte ra balanghoy among gikaon, mao to nga gipadad-an mi nila og bugas. Wa damha nga pagka-2009, naay pa diay muabot nga lain panalangin nga mao ang 4Ps (I remember that my son told his grandmother that we always eat cassava, so we were given rice when they returned home. In 2009, another unexpected blessing came called 4Ps)," Jeneveve recalled.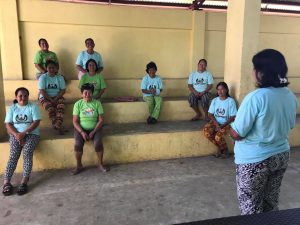 She was immediately appointed as a parent leader. She has been a parent leader for over a decade because, according to her members, she is really reliable in everything. As a parent leader, she fulfilled her responsibilities well. She does not neglect her members. She helps all her members especially by providing information on all program updates.
It was also during that same year that she was included as a Barangay Health Worker. She is also one of the reliable workers in the barangay, as she never hesitated to teach her co-BHWs in handling the facilities in the health center.
"She is really active in the Program. She was one of those selected parent leaders to participate in Butuan City during the Capability Building for Parent Leaders in September 2010. She has also participated in many DSWD trainings such as Regional Parent Leaders Forum in June 2011, Community Finance Trainings of KALAHI-CIDSS NCDDP in November 2016 and various agencies such as the Department of Education, Department of Health and LGU-Malimono," Richmond Lambus, Pantawid Pamilya Municipal Link enumerated.
The hope after the woe
There are some days that Jeneveve still grieves for her husband's death, knowing that it would not be easy to raise two children alone. She knew many trials would come to them, but she also believes that the Lord would help her overcome all the problems she will be going to face.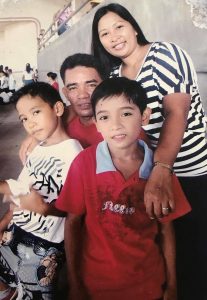 She learned a lot when she became a beneficiary of the Program. The Family Development Session (FDS) was one of the program's activities that inspired her as a parent. As a result, she gained knowledge as to how parents should value their children, and how to be responsible parents.
With what she learned, she keeps herself busy with online selling even with the current situation brought by the pandemic. Apart from this, she also buy-and-sells fish and firewood.
"Kabaw ko nga dili sayon ang mahimong solo parent, pero tungod sa mga tawo nga mitabang sa among pamilya, kabaw pud ko na malampasan ra ni namo puhon (I know that being a solo parent is not easy, but because of the people who helped our family, I know we will be able to overcome these challenges eventually)," Jeneveve said.