Water is one of the most important needs for humans and animals. Without water, it would be hard to survive.
Unfortunately, not all places on earth have the luxury of enjoying clean and potable water due to water pollution. One of which is Barangay Banahao in Lianga, Surigao del Sur. Hence, the Banahao Water People's Association decided to propose and put up a water-refilling station so that their community and neighboring barangays can also have easy access to safe drinking water.
Through this livelihood project, the association was able to address their concerns on the improvement of the health of community members and reduce the number of waterborne diseases such as diarrhea and amoebiasis.
But as they were able to respond well to these terrible situations, the association arrived at a conclusion that managing and sustaining a project also came with struggles that were completely inevitable.
Overcoming challenges
Through the intervention of the Sustainable Livelihood Program-Payapa at Masaganang Pamayanan (SLP-PAMANA) under the Department of Social Welfare and Development (DSWD), a group of men and women in Barangay Banahao in Lianga, Surigao del Sur convened and formed the Banahao Water People's Association on August 17, 2015.
The DSWD SLP-PAMANA extended a total grant of PHP600,000 to the association to establish their long-desired water-refilling station and to allow them to undergo skills training on how to manage the project.
It was only on July 28, 2017 that the association was able to formally start their operations. However, their first year was nowhere near easy. The association had to do a lot of learning and adjustments, such as operating the water machines and executing organizational policies and by-laws.
Along with those struggles, they also experienced conflicts in their group which led to the decrease of members – from 161 members down to 118.
On the bright side, the Local Government Unit (LGU) of Lianga, together with the Barangay LGU of Banahao abided with their commitment to continuously provide assistance to the association even after the project turnover. With the help of the LGU Lianga and BLGU Banahao, the association was able to surpass these challenges.
The members of the Banahao Water People's Association perceived these challenges as life lessons and points in becoming a better, solid, and harmonious association.
Expanding and giving back to the community
In their three and a half year of operations, the association has been able to find their way around the business and purchase additional equipment for their project.
Specifically, the Banahao Water People's Association bought the following equipment and materials: additional water tank (PHP38,000), additional water machine (PHP175,000), softener (PHP25,000), water pump (PHP13,000), and air conditioner (PHP10,000). Other than this, they were also able to put up a rice and corn retail shop amounting to PHP50,000 and water gallon selling totaling to PHP20,000 with the goal of increasing and stabilizing their income.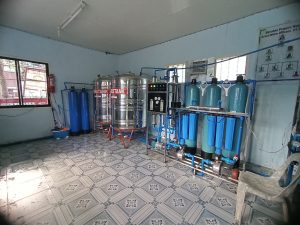 Aside from being a primary supplier of clean, drinking water to their neighboring communities such as Barangay Diatagon and Barangay Poblacion in Lianga, the association has also been providing employment to some members of their community.
Currently, the association has four employees designated as cashiers, washers, and operators. These employees are paid from PHP200-PHP400 a day. For others, it may only be a small amount, but it already means the world for those who have been employed by the association.
Not only was the association able to expand and extend help to their community, but the members also benefited well from their project. In 2018, the members received their share of PHP1,500. While in 2019 and 2020, the members received a share of PHP200 and PHP2,000, respectively. In 2019, they only received the said amount because it was also in the same year that they decided to acquire additional equipment for their water-refilling station project.
Expressing gratitude and going up
According to Greta Vistas, former association president, the project has brought them opportunities to uplift their living condition and to be of help their community.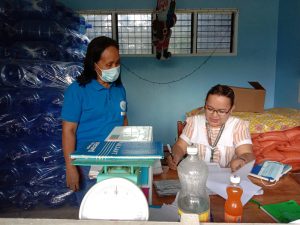 "Dako ang tabang ini na project sa kanamo. Mahamok ang amo nakabenipisyo, dili lamang ang mga residente nganhi Brgy. Banahao apil pa ang uban na silingang dagkong barangay parihas sa Barangay Diatagon ug Barangay Poblacion Lianga proper. Nakatukod nasab kami ug dugang negosyo gikan sa kanami kaugalingon nga kita (This project has helped us in a grand way. Many have benefited from this, not only the residents from our barangay, but as well as those residing in Barangay Diatagon and Barangay Poblacion Proper. Further, this project has also given us the opportunity to establish other businesses)," Vistas said.
It is unarguable that sustaining a project is never easy, let alone pulling together an association. But for the members of Banahao Water People's Association, they were able to improve their lives with the said livelihood project.
As they embark another year, the association hopes that they will be able to keep their association, project, and additional enterprises running and help more people in their community.
For them, there is no other way to go but up.