The best way to prepare for a workplace or any work-related medical emergency, is to be skilled in first aid. For the Social Pension Program staff of the Department of Social Welfare and Development Field Office Caraga the conduct of a First Aid Training for its staff is considered a must, especially that the program conducts payouts involving senior citizens – people who are vulnerable.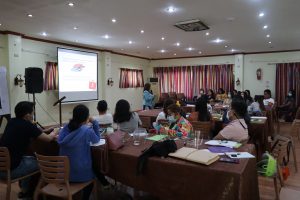 Workers needs to be familiarized with common medical emergencies and basic first aid so they can give temporary care to an ill or injured person until professional medical care can be provided in times of untoward incidents, especially during pay outs and during conduct of the program's activities.
As a matter of fact, during the training held last March 1-2, 2021 at Amontay Beach Resort, Nasipit Agusan Del Norte, a lot of misconceptions about responding to common medical emergencies were raised, just like the common reaction when someone has a simple burn where people usually put toothpaste or lotion just to soothe the burn or the blister. This proves that workers really needed to be trained to actually be effective in providing first aid.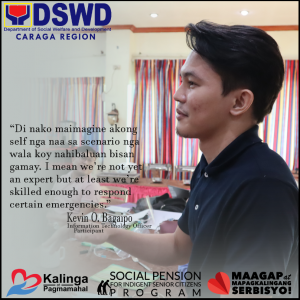 "I can't picture out myself in the actual scenario knowing nothing, even a little emergency medical response procedure. I mean, we are not experts, but at least we should be skilled enough to respond to simple cases," Kevin O. Bagaipo, Information Technology Officer I of the SocPen program shared.
Utilizing the first aid kit available, staff were taught as well on how to get accurate blood pressure (BP) and identify a normal and alarming BP rate. They were also trained on how to properly apply bandage to an injury, proper wound dressing, Cardio Pulmonary Resuscitation(CPR), animal bites intervention, address fainting cases, control bleeding, and seizure interventions.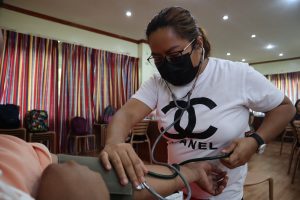 Also, to protect the first aider from being sued for giving emergency care, Anafe A. Lecciones, Training Specialist II and a Registered Nurse stressed the basic rules including setting a limit when to provide care especially if it is beyond the level of training and keeping one's self safe from contagious diseases while providing care.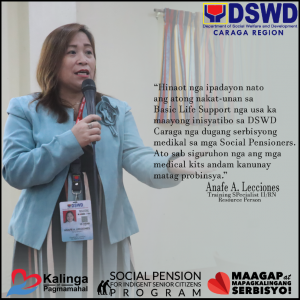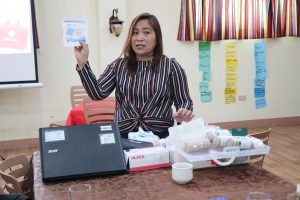 Lecciones not only emphasized safety protocols but also underscored the sustainability of applying the basic medical emergency care on to real life emergency situations.
"Hope we could sustain what we have learned from this Basic Life Support or First Aid Training, which is an excellent initiative of DSWD Caraga that expands its service for the Social Pensioners. Let us also make sure to have our medical kits available in our satellite offices in each province", Lecciones said.
The training concluded with words of gratefulness from the participants expressing their insights on the relevance of the training into their field of works.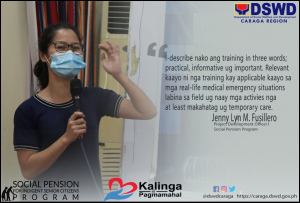 "I'd describe the training in three words; practical, informative and important. Very relevant because this is applicable in real-life emergency situations, specifically when we're in the field," Jenny Lyn Fusillero, Social Pension Project Development Officer I shared.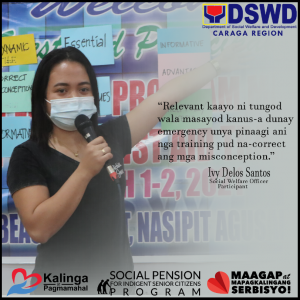 "This is so significant for we do not know when the emergency may occur and at the same time through this training misconceptions are corrected," Ivy Delos Santos, Social Welfare Officer I said.
The said training is a step towards ensuring that DSWD staff who usually conduct field works are capable of handling medical emergencies, especially involving clients who are frail and weak. There are instances where payout conditions are overwhelming, especially to older people, which causes medical emergencies to happen. At least with the training, the workers will now be capable of providing first aid to them.