The Regional Committee for the Welfare of Children (RCWC) Caraga, chaired by the Department of Social Welfare and Development (DSWD), launched the first episode of its monthly live streaming platform dubbed as MaCaragaBata, last March 25, 2021.
The MaCaragaBata aims to discuss, evaluate, and analyze the current status and rights of Filipino Children, particularly in Caraga Region. The launching of the monthly streaming platform was intentionally inaugurated in March to better address the issues and concerns faced by children, especially girls, since March is considered as Women's Month.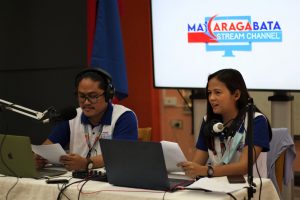 On its first episode, RCDA and DSWD FO Caraga highlighted this year's Girl-Child Week Celebration with its local theme "Isulong: Tamang Pagkalinga sa mga Batang Babae sa Panahon ng Pandemya." With the government's effort to address the issues of equality and opportunities of girl children, while embodying the 1995-2025 Philippine Plan for Gender -Responsive Development, the government issued Proclamation No. 759, signed by former President Fidel V. Ramos, declaring the fourth week of March as the Girl-Child Week.
The MaCaragaBata stream channel was hosted by the RCWC-Caraga Secretariat, Raffy Vigil, together with Cristal Urot, Social Welfare Assistant (SWA). Distinguished guests from different sectors were invited to better help the audience understand the rights of every girl child, these were Ms. Cheryl Jen Pahal, SWO II of the Home for Girls (HFG) Caraga, Sis. Marilou Besere, Center Head of the Gesu Eucaristico Children's Incorporated and Ms. Ma. Erlinda Aguila, Policy and Planning Division Officer-in-Charge of the Council for the Welfare of Children.
The stream channel also served as an avenue for the HFG-Caraga and Gesu Eucaristico Children's Incorporated to reach for individuals who are willing to give assistance, for the benefit of the children in the centers.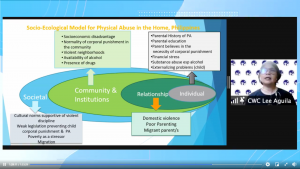 Ms. Aguila of CWC, also discussed the Socio-Ecological Model for Physical Abuse and Sexual Abuse in the Home and Community of the Philippines. To address these situations, she also shared the Key Strategies for Effective Discipline/Parenting that of help for the parents and/or guardians.
With the hope to increase the understanding of each the public on the rights of every child, DSWD FO Caraga and RCWC encourages the audience to keep posted on their different social media sites and websites for the updates on the next episode of MaCaragaBata.