The Department of Social Welfare and Development Field Office Caraga has assessed and profiled 6,678 families in the Municipality of Mainit, Surigao del Norte, since the year 2019. The families are recipients of the Disaster Vulnerability Assessment and Profiling Project (DVAPP), a project that envisions to establish a database of families in vulnerable areas with the aim to digitalize the current manually-administered DSWD-Disaster Assistance and Family Access Card [DAFAC] into the Comprehensive Assistance for Disaster Response and Early Recovery Services [CARES].
The program is implemented as a disaster preparedness intervention for response and is done in partnership between the DSWD and the International Organization for Migration (IOM). As such, the DSWD-CARES utilizes Biometrics Registration and Verification [BRaVe] system for the collection and management of the personal and socio-economic profile of families in vulnerable areas. The system provides critical information contributory in the crafting of workable contingency plans for response and delivery of timely relief and recovery actions and the equitable and transparent provision of humanitarian aid.
In Caraga Region, the project was pilot-tested in the municipalities of Mainit and Tubod, Surigao del Norte and in Jabonga and Kitcharao, Agusan del Norte. A total of 111 DVAPP personnel were fielded to implement the project. From November 2019 until December 2019, a total of 20,585 families were enumerated in the municipalities mentioned.
Last November 2020 – December 2020, the DVAPP Team of Caraga conducted the CARES card production for 4,992 families out of the 6,678 profiled families in Mainit, Surigao del Norte.  For this year, the Field Office is set to complete the card production for the remaining 1,686 families.
Mainit is a 4th class municipality of Surigao del Norte. It is situated at the north shore of Lake Mainit, the fourth largest lake in the country, and is often affected by flooding and landslides. With this, the Local Government Unit (LGU) of Mainit wholeheartedly welcomed the project as an opportunity to improve their capacity for disaster preparedness and response.
According to Ann Ruvik I. Mondano, OIC-Municipal Social Welfare and Development Officer of LGU Mainit, the municipality experiences flooding yearly due to the overflowing of Lake Mainit. This frequently occurs during onslaught of typhoons or even during heavy rains. Among others, Mainit is also susceptible to landslides since some of its barangays are mountain communities. This is also why the LGU of Mainit found the project significant in a disaster-prone municipality.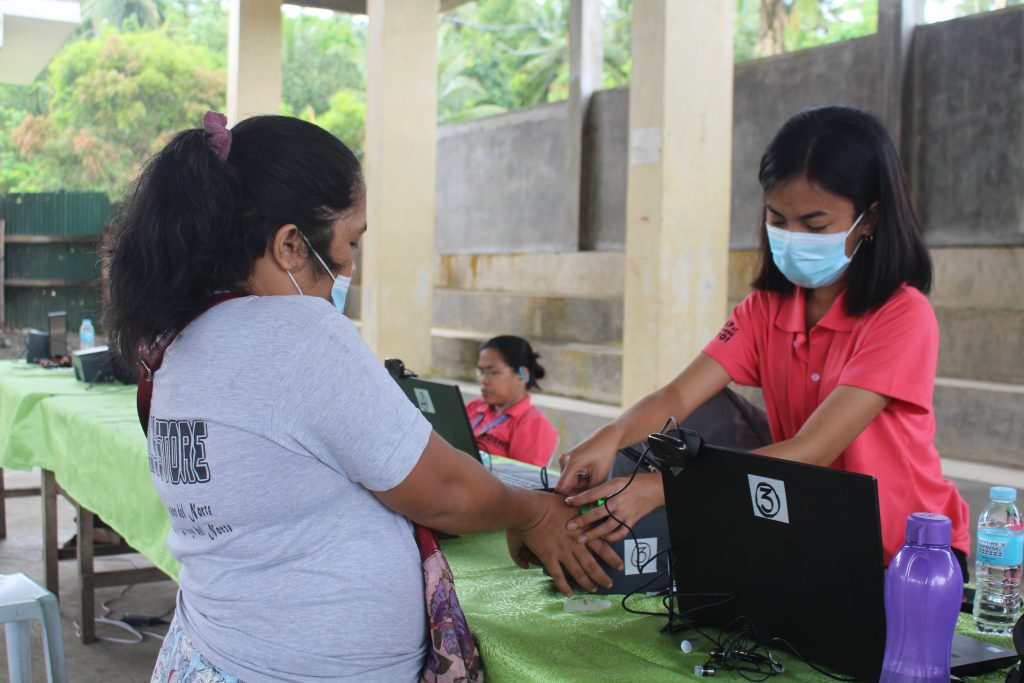 "Ang programa sa DVAPP, dako karajaw an kamahinungdanon tungod kay dinhi, pinaagi sa validation ug enumeration nga nahitabo makit-an namo kun kinsa kadtong mga pamilya o areas nga bulnerable sa among lungsod sa Mainit, hilabina sa mga lugar nga permaninte makasinati og pagbaha ug pagdahili sa yuta. (DVAPP is crucial in the municipality of Mainit since through the validation and enumeration we identified the vulnerable areas and especially the vulnerable families that live in disaster-prone areas.), Ms Modano said.
She was also thankful to DSWD for implementing its pilot-testing of the project in their municipality. They believe that the project is a huge help in their response interventions and will benefit the vulnerable communities.
"Tungod sa bag-o nga teknolohiya nga ania karon sa atoa, pinaagi sa CARES card napasayon gayud ang pag-access sa mga assistance ug sa mga hinabang sa gobyerno. Maong sa panahon sa kalamidad ang matag pamilya muhatag o mupresentar lamang sa ilang card og sila maka avail sa nagkalain-lain nga hinabang sa gobyerno. (Because of the new technology, the CARES card will make it easier to access assistance from the government. During disasters, each family will only present their card in order to avail the assistance.), she added.
With the help of CARES card, it will be easier to identify the families affected by disasters and relief assistance will immediately be distributed because of the accessibility of information. It will also eliminate the hassle of using the manually-administered DSWD-DAFAC, which is also prone to misplacement and destruction.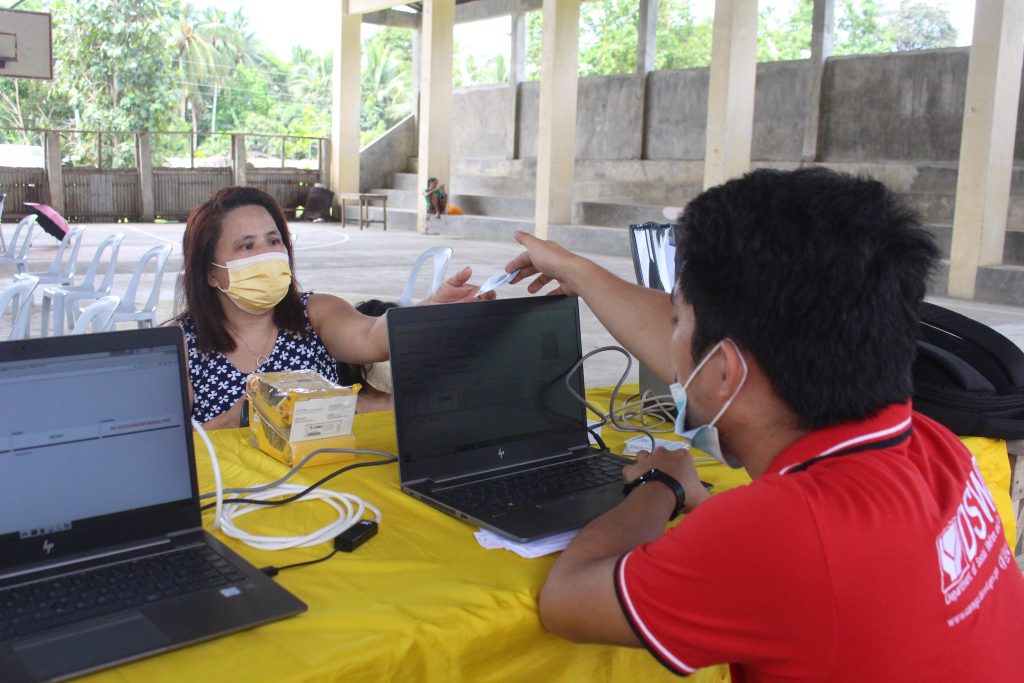 The recipients of the program are thankful for the project since they would benefit from it and the relief distribution would be easier. Ms Marieta Padrique Rein of Barangay Tapi-an said that, "Ang amoang Barangay prone karajaw sa nagkadaiyang mga kalamidad sama sa pagdako sa danao, baha, og landslide. Mao nga mapasalamaton kami sa DSWD nga pinaagi aning DVAPP nga mapadali ang pag-apud apud sa relief goods panahon sa kalamidad (Our Barangay is an area prone to flooding, landslide, and the rise of water level in Lake Mainit. Thus, we are thankful for DSWD through the Disaster Vulnerability Assessment and Profiling Project (DVAPP), relief goods can be easily distributed during disasters)."
DSWD envisions stronger Filipino communities whose disaster resiliency is top of the line coupled with disaster response capabilities that is able to meet global standards. With this, the project is a huge help in attaining this goal especially in disaster-prone communities in the country.