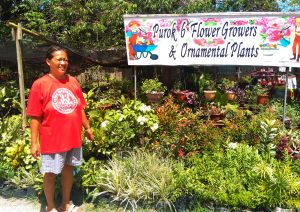 As a young lady, Geraline already knew that she was a plant lover. She loved the smell of soil and the sight of their home's beautiful, luscious garden.
But as Geraline grew older, she came to a realization. From being a mere passion, she discerned that her fascination for plants and flowers can help her make some profit.
25 years later, Geraline Navales's passion for plants and flowers became her main livelihood and source of income to support her family's needs.
And with the right mix of Geraline's natural talent to grow plants, resourcefulness, and love for family, her love for plants became her family's saving grace in the time of a dreadful pandemic.
From certified "plantita" to businesswoman
According to Inquirer.net, a plantita (or plantito) is a frankenword of plant and "tita" (aunt). This term was coined together in 2020 and became one of the most popular "stay-at-home projects or craze" in the country.
Yet even before the term plantita was coined, several people have already been living the life of a plantita.
Geraline Navales, a wife and a mother to nine children and a resident of San Francisco, Agusan del Sur, have always loved planting and collecting flowers even at a young age. She grew up having a garden in their home and this paved a way for her to explore gardening.
She said that watering the plants and watching them grow brought her some kind of joy and peace. It became her favorite hobby and recreational activity.
As she was growing up, her fondness for plants remained. It also dawned on her that this passion could be turned into a business opportunity. Geraline saw that this sort of business was sustainable, low-maintenance, and manageable.
Having this realization, she decided to engage in the plant and flower business and made her passion her source for profit.
Finding her way around the business
As she navigated through her plant business, Geraline came to know that she still had a lot to learn. She learned that she had to launch marketing strategies to attract more customers, particularly because some of her neighbors have also embarked on the plant and flower industry.
Hence, she visited and observed other plant businesses in other areas and took note of the good practices that these businesses were doing, and adapted them.
To improve her business, Geraline took the risk of purchasing and procuring rare and in-demand plants that were hard to find in their municipality. She allotted a huge capital outlay just to import these plants.
But for Geraline, it was a risk worth taking. Because of her persistence and hard work, Geraline's plant and flower business boomed and her customers doubled.
Hitting the rocks
The business was running smoothly until the pandemic happened. As a measure to control the spread of the COVID19 virus, strict community quarantine was implemented by the government.
Geraline, along with other business establishments, had to abruptly stop their operations and close temporarily. It was a dark time for her and her family.
Luckily, three months after the community quarantine was implemented, plant and flower collection became one of the most popular coping activities of the people. From cooking to TikTok videos, people became engrossed in turning their homes into green sanctuaries.
This was good news for Geraline and other plant business owners. On top of that, they were also allowed to resume their operations again.
To help them get back on business, the Local Government Unit of San Francisco also endorsed Geraline as one of the beneficiaries of the Livelihood Assistance Grant (LAG) of the Department of Social Welfare and Development's (DSWD) Sustainable Livelihood Program.
LAG is a recovery program of the national government with the intention of helping families under the informal sector whose livelihoods were severely affected by the imposition of the community quarantine.
With the Php15,000 financial assistance, Geraline immediately used the money to buy additional plants that were most sought-after by plantitos and plantitas. She also purchased other materials such as pots that were needed for her to make her plants and flowers more marketable.
Juana, Kaya!
Putting up her business was no easy feat for Geraline. But because of her will to help her husband provide for her family and give their children a good life, she endured and persevered.
"Dili gyud lalim mag negosyo maskin pa og ganahan kaayo ko aning mga tanom. Labi na karong nag pandemya, nakasinati gyud mi og kalisod. Pero para sa akong pamilya, naningkamot ko para di sila mapasagdan (Even if I had a passion for plants, it was still hard managing the business. Most especially during the time of the pandemic, we really struggled. But for my family, I was ready to work hard just to ensure that they are reared well)," Geraline said.
Geraline is only one of the many women who had their hands dirty just to survive with their families during this time of crisis. She proved that women, despite numerous struggles, have amazing and out-of-this-world skills and abilities to head the family.
In the time of the pandemic, it was a "Kaya!" moment for Geraline.