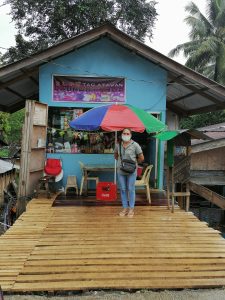 Ensuring the sustainability of a business is never easy. It comes with many setbacks. But when the team handling the business is grounded and determined to grow, it will always carry on. This was the case of the Taglatawan Sustainable Livelihood Program (SLP) Laundry Women's Association in Barangay Taglatawan, Bayugan City, Agusan del Sur.
The association is a recipient of the laundry shop livelihood project funded by the Department of Social Welfare and Development (DSWD), through the Sustainable Livelihood Program. The said livelihood project was handed over to them by the DSWD in 2017.
Originally, the group was composed of 40 active Pantawid Pamilyang Pilipino Program women members. Sadly, the number of active members decreased to 20, due to multiple reasons. This was only the first hurdle they had to surpass.
The DSWD-SLP's livelihood project included three-units of digital washing machines so that it would be easier, faster, and better for the women participants to cater laundry services. Unluckily, these machines broke down last year – the second and biggest struggle they had to deal with.
In order to keep the business going, the association made a huge decision and bought a new motherboard even if it was very costly. Presently, they are still waiting for the delivery of the said item.
Aside from this, the Taglatawan SLP Laundry Women's Association also purchased one unit of manual washing machine. Because these expenses were unexpected and the group was just starting the business, they had to avail the washing machine through credit.
The hard work and determination of these women have certainly paid off because four years since the project was turned over to their care, the laundry shop business is still operational. At present, the SLPA would earn a monthly income of up to PHP6,000. From their income, they would set aside 25% for repair and maintenance costs and allots an amount of PHP1,500 for their monthly savings which the association then deposits in their bank account.
To even attract more customers, the SLPA also took the initiative to level up their game marketing strategy by advertising their laundry services and shop through local radio stations in Bayugan City. Further, the SLPA has also expanded to other income-generating projects such as rice trading and money-lending but limited only to SLPA members. From this, they were already able to deposit a total of PHP3,280 in their savings account.
During last year's community quarantine, the association continued to accept laundry services. Because going out of the house was prohibited, the women catered delivery services. This venture manifests that these women are all out in providing good services to their customers.
Taglatawan SLP Laundry Women's Association President Perlin Oraiz said that they will never stop working hard. More than achieving long-term sustainability and success, she said the association also takes great care of the project because it has become a source of their families' daily needs. It has been their aid especially during the breakout of the pandemic last year.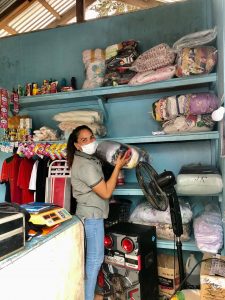 "Uban sa akong mga kababaihan nga miyembro, naningkamot kami nga mapalambo ang among laundry shop. Nag-strategize jud sab kami mag search sa Youtube karon kung unsa pa ang among pwede sudlan nga negosyo kay sa karon, medyo hinay gyud ang income. Apan nagpasalamat gihapon kami kay makahulog ra gihapon mi sa banko para sa among savings (Together with my fellow women members, we are surely working diligently to sustain our laundry shop. We have been strategizing on how to expand our business by searching for ideas through Youtube because we cannot solely depend on our shop because our income has been slow recently. Yet, we are grateful for this project because we are still able to deposit in our savings account," Oraiz shared.
Just like other SLP women's associations in the region, the Taglatawan SLP Laundry Women's Association was not spared from challenges. But instead of allowing these struggles to lead them to failure, they used these circumstances as opportunities to grow and to become better.
The Juanas of Taglatawan SLP Laundry Women's Association are strong that women never, ever settle for less.