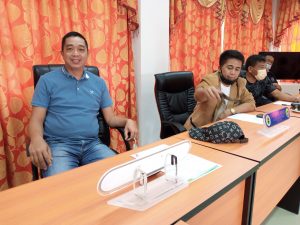 He started as a Sangguiniang Kabataan (SK) chairperson in a small town in Surigao del Norte province. Now in his 40s, Jonathan B. Bulabog is still doing what he's passionate about — serving the community.
At 47 years old and a father of two, Jonathan is serving his first term as municipal councilor of Sison, Surigao del Norte. He was elected in 2019.
His political stint started in 1990 when he was elected as SK chairperson. He also served as council member in Barangay Mabuhay from 2006-2010.
He is a graduate of Bachelor of Science in Commerce major in Management at St. Paul University in Surigao City. With all his academic and professional background, Jonathan has always been a community volunteer by heart.
When KALAHI-CIDSS or Kapit-Bisig Laban sa Kahirapan – Comprehensive and Integrated Delivery of Social Services was introduced in their barangay in Mabuhay, he had no second thoughts in accepting the responsibility when he was chosen as Barangay Sub-Project Management Committee (BSPMC) chairperson.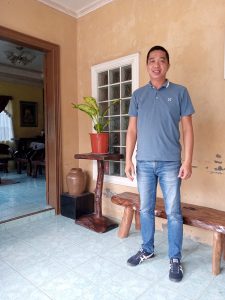 "At the time gi-organize ang KALAHI, gipatawag mi sa mga taga barangay. Nitambong kog assembliya, didto gipasabot [unsa ang programa]. Ako ang gi-elect as BSPMC chairperson (When KALAHI-CIDSS was organized or introduced, we were summoned by the barangay. I attended the assembly where the program was discussed. I was then elected as BSPMC chairperson," Jonathan said.
The completed KALAHI-CIDSS projects in Barangay Mabuhay when Jonathan was the BSPMC chairperson were the water system, health center, tribal hall, training center for out-of-school youths and public toilet.
"100 percent ko nagtutok sa project kay gusto nako moserbisyo sa katawhan. Boluntaryo. Walay sweldo (I oversee the project 100% because of my willingness to serve the people. Voluntarily. With no pay)," he said.
Councilor Jonathan said that he learned a lot from KALAHI-CIDSS due to its capacity building activities such as trainings on management, construction, procurement, and operation and maintenance.
However, he said that one lesson learned that he'll never forget from KALAHI-CIDSS is "community involvement".
"The purpose of KALAHI is not about the completion of projects, it is about the people molded by the program," the town councilor said.
"That's what I really learned in KALAHI — not the health centers, water systems or other infrastructure projects — but ang tao gyud ang gi-umol sa KALAHI (it is the people molded by KALAHI)," he said. "Importante ang involvement sa community kay kung wala na, dili molambo ang barangay (Community is very important. Without it, a barangay will not prosper)."
"First, hesitant ang mga tao. Pero susama ra ni kung magsakay ka sa usa ka bangka o baroto. Kung ang baroto 10 ang magsakay ug isa lang ang mobugsay, hinay jud mo-abot sa destinasyon. Mo-abot pero dugay. Pero kung ang tanan mobugsay sa baroto, dali ra mo-abot. So susama ra pud sa pagpadagan sa barangay nga kinahanglan naa gyuy involvement sa mga katawhan, (First, the people are hesitant. But just like boarding a boat, when the boat is boarded with 10 people and only a single person is paddling, it will take long to reach its destination. But when all of them paddles, they will reach their destination fast. As such, there should be involvement of the people in the barangay)," Jonathan explained.
Thus, Councilor Jonathan supports the passage of the Community-Driven Development (CDD) Bill, saying that development should always start from the grassroots.
"Kini atong boluntaryo dili sa atong kaugalingon, para man ni sa atong katawhan. Dapat dunay gugma (My volunteering is not for myself but for the people. Thus, there should be love), the town councilor said. "Kalipay nako nga nahatag nako akong serbisyo sa mga katawhan (It is my joy that I gave my service to the people)," he added.
"Ang KALAHI jud isa ka instrumento nag nakapadugang nako og experyensya sa pagpangalagad sa mga katawhan (KALAHI-CIDSS is one of the instruments that my service to the public has progressed), Jonathan said.
"I even apply the KALAHI experience in my current job as municipal councilor. I always arrive on time during sessions. Not that I wanted to flaunt or become popular to the public but by making sure the people you serve are satisfied," he said.
"Bisan unsa ang programa sa goberno, andam kong motabang (I'm willing to help any program of the government)," he added.