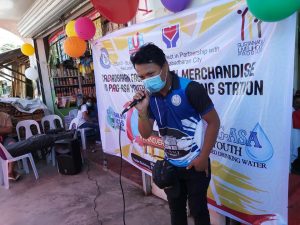 Celebrating four years of trust, gratitude, and perseverance.
March 2021 marks the Cabadbaran Family and Children in the Environment in the Slum (FACES) Sustainable Livelihood Program (SLP) Association and the Pag-asa Youth Association of the Philippines' (PYAP) 4th anniversary, which the Associations celebrated through a thanksgiving mass and a short program on March 1, 2021 at Barangay 9, Cabadbaran City, Agusan del Norte.
Both associations have reached 4 years of operation for their general merchandise store and water refilling station projects, respectively. These projects were funded under the SLP Bottoms-up Budgeting (Bub) Project in 2017.
Department of Social Welfare and Development (DSWD) Field Office Caraga OIC-Assistant Regional Director for Operations Jean Paul S. Parajes graced the activity and encouraged the SLP program participants to continue working hard and initiate strategies that would help their projects to grow and expand more.
He also reminded the SLPAs that despite the many challenges that they will encounter, the participants should always face this as a team and resolve this together.
"Dapat uban gihapon mong tanan as a team, whatever pa inyuhang ma-experience nga problema along the way. I am hoping and looking forward that next year, magkita-kita gihapon ta para sa inyuhang 5th anniversary celebration (Whatever problems that you may encounter along the way, your team should always remain intact and as a team. I am hoping and looking forward that next year, we will still meet and celebrate your 5th-anniversary celebration)," Parajes said.
Parajes also challenged the associations to set a good example to other people in their community, especially to the women and youth sector.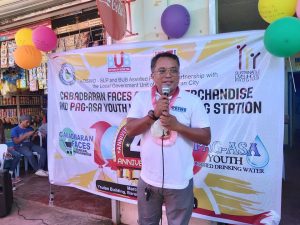 "At this point, now that you have reached four years, I challenge you to even dream bigger and dream as a team. I hope that your associations can become role models to your respective sectors, the women and youth, to work hard and dream big."
Also, Former City Social Welfare and Development Officer and currently City Councilor for Social Services Joan Monding, joined the celebration and commended the SLPAs for achieving this milestone.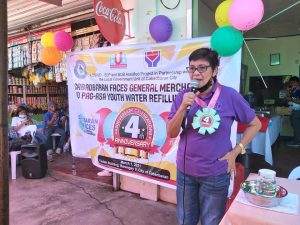 "Dili tanang association o grupo makaabot og ani. Dili tanan maka-celebrate og anniversary (Not all groups or associations reach this milestone. Not everyone gets to celebrate their anniversary)," Monding said.
In the case of the PYAP, 12 of their members have already graduated through their water refilling station project. The project's income has paved way for the members to support their studies and as well as their families.
Unfortunately, most of these members have also withdrawn their membership and pursued their professional careers. Thus, Pag-asa Youth SLPA President Jomari Badal encouraged the remaining members that they seek potential members to add to their group and ensure their project's sustainability and further its operations.
"Mao na, sa akong mga kaubanan, mangita ta og ikapuli sa mga nangawala para gyud dili mapasagdan ang atong project. Sayang ni kung mabiyaan lang nato kay dako na ni og natabang sa ato nga proyekto (To my fellow members, let us find new potential members to replace the ones who have withdrawn their membership and help us manage the project. This project has already helped us a lot in many ways, hence let us not allow this to go to waste)," Badal said.
Currently, both associations plan to expand their business and branch out in other barangays in Cabadbaran City. The Local Government Unit of Cabadbaran has already committed to assisting the associations in executing the associations' plans.
From 2017 to present, both associations are continuously monitored by the Local Government Unit of Cabadbaran, through its local technical working group.