One of the national government's measures in helping former rebels rebuild their lives is the provision of livelihood assistance with the Department of Social Welfare and Development (DSWD), through the Sustainable Livelihood Program (SLP).
As stipulated in Executive Order No. 70 or the "Whole-of-Nation Approach in Attaining Inclusive and Sustainable Peace", former rebels who are deemed as eligible and cleared by the Joint AFP-PNP Intelligence Committee (JAPIC) are qualified to receive the DSWD-SLP's Livelihood Settlement Grant (LSG).
Through this special livelihood intervention, former rebels and their respective families are granted an amount of Php20,000 which will be used as their seed capital fund in starting a small business or income-generating project of their choice.
Last year, over 204 former rebels have already received the LSG. 30 days after these families received the livelihood assistance, DSWD-SLP staff have since conducted monitoring to check for the signs of progress made by the program beneficiaries to ensure that the intervention has served its purpose and to guarantee that the families are still given the technical assistance they need.
In Agusan del Norte, three former rebels shared how the government's financial aid has helped their families, what opportunities it brought them, and why it has created a significant impact in their lives.
New-found opportunity in hog-raising
"Tungod sa ayuda nga gihataga sa DSWD-SLP, aduna kami panginabuhian bisan pa og ania kami sa sulos sa kampo 23 Infantry Battalion (Because of the aid we received through the DSWD-SLP, we now have a livelihood, despite being housed in the 23 Infantry Battalion (IB)."
These were the words of "Ernie" when he expressed his utmost gratitude towards the DSWD-SLP. Ernie, not his real name, is a former rebel who surrendered in 2019. He is one of the 60 individuals who received the Livelihood Settlement Grant on September 11, 2019.
Currently, Ernie and his family are temporarily residing in the 23-IB Camp in Buenavista, Agusan del Norte. For the time being, former rebels and their families are housed inside the military camp to ensure their safety and security.
Using the financial assistance, he received from the program, Ernie established a hog-raising project. During the first cycle, he was already able to earn Php18,000 from the fattened pigs that he raised. For the second cycle, he nurtured sows and bought five heads of piglets to keep his income-generating project going.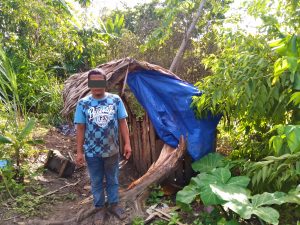 Through this small business, Ernie is able to provide for his family even inside the premises of the military camp and in the midst of the pandemic. He is highly motivated to rebuild his life and provide a better and safer environment for his family.
Inside the camp, national agencies such as the Technical Education and Skills Development Authority (TESDA) and Department of Trade and Industry (DTI) continue to conduct skills pieces of training that can hone the potentials of the former rebels such as Ernie and his family.
Fruit-vending sparks hope for a new beginning
31-year-old Jerry, not his real name, is also one of the former rebels who surrendered in 2019. Together with Ernie, he too received the livelihood grant amounting to Php20,000 on September 11, 2019.  Currently, he lives in Agusan Pequeno, Butuan City.
While Ernie engaged in hog-raising, Jerry decided to venture into fruit and vegetable vending. He sells a variety of fruits and vegetables. Sometimes, Jerry also vends fresh fish. Luckily, Jerry was able to set up his stall on the side of the road in their barangay – a strategic and accessible location for his customers.
During the pandemic, he was still able to earn through his fruit and vegetable business. It helped him support his family despite being caught in the middle of a crisis.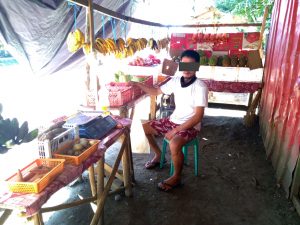 "Dako akong pasalamat sa DSWD tungod sa gihatagad nga ayuda sa amo nga mga former rebels. Nakatabang kini dili lang sa among panginabuhian pero para kami sab makasugod usab. Nakahatag kini motibasyon sa akoa nga mamuyo og malinawon, layo sa among kinabuhi sauna nga delikado ug walay kasiguraduhan (I am grateful to the DSWD for the assistance they have granted to us – former rebels. Aside from providing us a livelihood, this has also helped us to start again. This gesture has motivated me to live a peaceful life – far from our dangerous and uncertain life in the past)," Jerry expressed.
Jerry and his family plan to expand their business and sell more varieties of fruits. They also aim to engage in other small businesses to add to their resources.
Through the financial assistance delivered by the DSWD-SLP, it had sparked hope for Jerry and his family that they still have a stake in a fresh start and new beginnings in life.
Of cultivating vegetables and opportunities
She doesn't specifically remember at what age, but what Sheena clearly knows is that it was during her early teenage years when she became a member of the New People's Army.
But when she turned 19, Sheena, not her real name, decided that she was ready to turn away from that perilous life. In 2019, she surrendered.
Being one of the recipients of the Livelihood Settlement Grant paved way for Sheena to start a livelihood. After receiving the grant in 2020, she opted to cultivate a small vegetable garden in her home in Agusan Pequeno, Butuan City. Sheena planted string beans, monggo beans, eggplants, sweet potatoes, and cabbage. Once ready to be harvested, she and her family would sell their produce at the Butuan City Public Market.
Since she started her garden, Sheena would be able to harvest six times a month and have a profit of PHP 12,000.
Aside from growing a garden, Sheena was also able to purchase one piglet from the livelihood assistance, with the intention of engaging in hog-raising as an additional source of income.
Compared to her former, risky life, Sheena is much happier today. She said that surrendering was a great decision not just for her, but especially for her one-year-old child. Sheena wants her child to live a happy and peaceful life, different from what she had during her younger years.
"Dako kaayo akong pasalamat sa tanan nga nitabang sa amo na mga former rebels labi na sa Philippine Army ug sa DSWD. Nakatabang kining assistance nga makabalik mi sa komunidad ug maka-survive sa pandemya usab (I am immensely thankful to everyone who has helped us former rebels particularly to the Philippine Army and the DSWD. The assistance shared with us has helped us get back and start a life in the community. This has made us survive the pandemic, too)," Sheena exclaimed.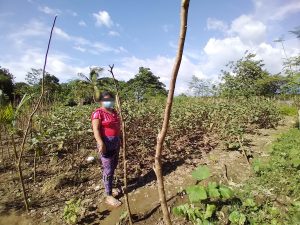 Embracing opportunities, changing directions
For Ernie, Jerry, and Sheena, turning away from their former lives was not easy. It meant taking a leap of faith and facing the dangers. But for their families to have better and improved lives, they took the risk.
Now, with the government as their support, these individuals and their families are ready and more confident living in their respective communities. With their utmost desire to give their families a safe environment and good life, Ernie, Jerry, and Sheena are all set to embrace more opportunities and to continue treading in new directions.