Fifty-two Former Rebels (FR) receive cash aid worth P520,000.00, as well as family food packs, hygiene kits, and sleeping kits under the National Government's Enhanced Comprehensive Local Integration Program (E-CLIP), last April 15, 2021, at the Naliyagan Cultural Center, Patin-Ay, Prosperidad, Agusan del Sur.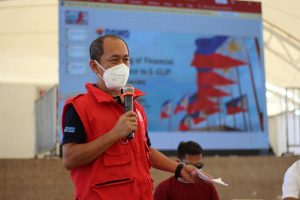 The Department of Social Welfare and Development (DSWD) Field Office Caraga led by the OIC Regional Director, Ramel F. Jamen, personally handed the assistance to the recipients. Each of the 52 beneficiaries received a cash worth P10,000.00, plus family food packs, hygiene kits, and sleeping kits as part of DSWD's part of the E-CLIP implementation.
"Personally, dili ko gusto nga former rebels ang itawag sa inyo, gusto nako nga tawagon kamo'ng bag-ong katawhan, aron dali nato'ng malimtan ang gidisisyonan nga mga papel sa niagi'ng mga katuigan isip NPA (Personally, I would like to refrain from calling you Former Rebels, instead, I wanted to call you as New Persons, so that your previous leaning towards the left-wing disciplines and practices can easily be forgotten)" Jamen said.
The E-CLIP is one of the peace-building initiatives of the government to meet the priorities for the Philippine Development Plan 2017-2022. Its implementation is further intensified by the issuance of the Executive Order No. 70 (EO 70) s. 2018 which seeks to institutionalize the Whole-of-Nation Approach to facilitate and pursue the country's peace agenda.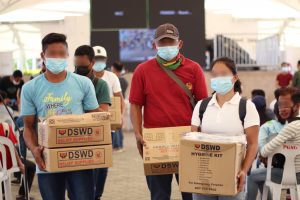 With the government's calling for full participation of the national government agencies and local government units in the program, DSWD, being one of the members of the National Task Force to End Local Communist Armed Conflict (NTF-ELCAC), affirms the implementation of the program through the provision of social welfare and protection program/services towards beneficiaries.
Other members of the NTF-ELCAC also participated in handling the assistance to the beneficiaries. These members were Edgar Ostos Ga, Municipal Barangay and Community Development Head, Major Ariel Pabria, Executive Officer of 26 IB, and Brigadier General Allan D. Hambala, Commanding Officer of the 401st Brigade of the Armed Forces of the Philippines.
"Usa kini ka activity karon pagpamatuod kung unsa ka sensero ang atong gobyerno alang niadtong atong mga kaigsuonan nga nahisalaag, mga dating NPA nga karon nibalik na sa sabakan sa gobyerno. (This event is a solid evidence of our government's sincerity to help our Former Rebels who abandoned the armed struggle and opted to become a productive members of society) "said Agusan del Sur Governor Santiago 'Santi' Cane Jr., live via ZOOM. Cane was not able to join the event physically for he was undergoing his quarantine.
Protective Services Division (PSD) Chief, Jessie Catherine B. Aranas, SWO V, emphasized that this assistance will surely help the FRs start anew. Sarrah Rose Salingay, Crisis Intervention Section (CIS) Head, also added that the assistance will serve as instrument for the Former Rebels to feel accepted in their reintegration to society.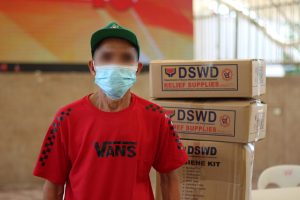 On behalf of fellow FRs, alias Datu, 64-years-old, expressed gratitude to the government for the renewed hope and for giving them another chance to recover from the lost opportunities. Datu already has his own start-up poultry business. Datu also added that the assistance given by DSWD FO Caraga will never be put into waste since he will use it in expanding his farm.