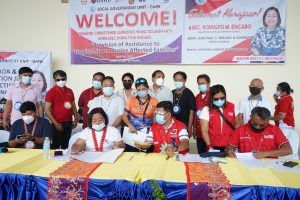 The Department of Social Welfare and Development (DSWD) and the Municipal Government of Dapa, Surigao del Norte signed recently an agreement that will provide a framework to better implement the Sustainable Livelihood Program (SLP) that will enable poor families to participate in the local economy through Micro Enterprise Development.
Dapa Mayor Elizabeth Matugas and Regional Director Ramel F. Jamen, represented by Assistant Regional Director for Operations Jean Paul Parajes, made a ceremonial signing of memorandum of agreement (MOA) last April 14.
As stipulated in the MOA, DSWD will provide Php1,982,702 grant for the construction of the Dapa Livelihood Center facility which will house the four 2019-funded Sustainable Livelihood Program Associations (SLPA) of Dapa.
DSWD will also ensure that utilization and management of funds is pursuant to applicable Commission On Audit (COA) Auditing rules and regulations, monitor and evaluate project activities and at the same time provide continuing capability building initiatives to SLPA members.
On the other hand, the Municipality of Dapa will provide a 190-square meter lot at Sitio Daro, Barangay 2, where the Dapa Livelihood Center would be constructed.
The local government unit (LGU) shall also conditionally donate the lot to the SLPAs as developmental support to their constituents and will also assign experts to ensure that project implementation will be completed.
Moreover, the LGU should exempt any fees pertaining to the construction of the project.
After the MOA signing, Mayor Matugas expressed her heartfelt gratitude to DSWD for its programs and services in their municipality.
"We have received so much blessings under the different portals and services of the Agency. We have the Pantawid Pamilyang Pilipino Program, Supplementary Feeding Program, Social Pension for Indigent Senior Citizens Program, Sustainable Livelihood Program, Social Amelioration Program and Assistance to Individuals in Crisis Situations," Mayor Matugas said.
"Truly, DSWD stands for your value of mapagkalinga at may malasakit na pagtugon sa bayan (kindhearted and compassionate service to the public). We will be forever grateful for all your help and staying by our side especially during this pandemic," the mayor added.
Assistant Secretary for Disaster Response Management Group Rodolfo Encabo, who was present during the MOA signing, said that government services will continues especially now with the donated lot and allocated grant for the people.
SLP is a capability-building program for poor, vulnerable and marginalized households and communities to improve their socio-economic conditions through accessing and acquiring necessary assets to engage in and maintain thriving livelihoods.