She was just aiming to pass the Social Worker Licensure Examination (LESW), but now, she is one of the topnotches in the recently concluded LESW exams last February. A total of 1,473 took the exams, and Jenerose was one of the 495 who passed, placing 9th overall.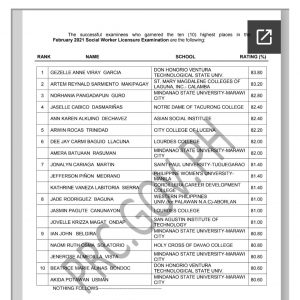 Jenerose Almedilla Vista grew up in Bayugan, Agusan del Sur. Raised by a father who works in construction, and a mother who works as a househelp. It was really hard for the family to provide for the needs of all 8 members since both parents were only earning Php3,000 a month.
"Muskwela ra gyud mi sauna na walay baon, basta naa lang sulod ang tiyan, okay na (We go to school without any allowance, as long as we have something in our stomach, it's fine)," Jenerose recalled. But poverty was not a hindrance for her to perform well in school.
When she was 13 years old, their household qualified for the Pantawid Pamilyang Pilipino Program (4Ps) thus making her as one of the monitored children, along with her brother.
The program lightened the burden of her parents to provide for their needs. Being one of the beneficiaries, it motivated her knowing that the government is concerned in the welfare of the poor. She constantly was an honor student from first year to fourth year high school – this was the result of her motivation being a beneficiary of the program.
"Matag higayon na makadawat si Mama og kwarta, ginapadapat gyud dayon niya sa amoang panginahanglan sa skwela og sa mga pagkaon (Every time my mother receives cash grants, it is automatically used for to buy food and schooling needs)," Jenerose shared.
The Program did not only assist their family financially, but in a broader perspective, it helped them understand and strengthened their connection as a family, because of the monthly Family Development Sessions.
"I once attended FDS when my mother was not around. I saw how beautiful it is to serve poor Filipino families. The program serves the purpose of bringing Social Welfare Planned Change," she said. Thus, she pursued her tertiary education in Mindanao State University (MSU) Marawi City with the degree of BS Social Work, because that time she was motivated to help people. And since their family was a member of the 4Ps program, she was accepted as a scholar.
"Ihatag napod namo sa uban na nanginahanglan sa Programa kay nakab-ot naman nato ang kabag-ohan sa atoang pamuyo (We will try to give way for others that still need the Program, because we have achieved our goals of improving our lives)," Julie, Jenerose's mother, humbly said.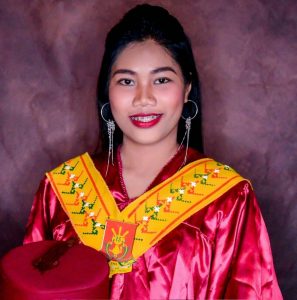 When she finally finished her degree in 2020, and achieving the feat of placing 9th nationwide in the 2021 LESW exams last in February, she is proud to humbly look back at her journey in life as a Pantawid Pamilya beneficiary. They will now be waiving/exiting from the Program since they have now achieved the goals of the program. She also is looking forward to a much brighter future from being a batang 4Ps, to now being a registered social worker.
Last month, the World Social Work Day was celebrated on March 16. It is a special day for social workers worldwide to stand together to be heard and be recognized for their impact in the society. This year, the 2021 World Social Work Day highlights Ubuntu: I am Because We Are.
Nobel Prize winner and former president of the Republic of South Africa, Nelson Mandela, describes Ubuntu as a philosophy constituting a universal truth, a way of life, which underpins an open society.
Now working as a Community Organizer in the City Social Welfare and Development Office, Jenerose serves her fellow Filipinos by being an effective social worker, and hopes to be an inspiration to all batang 4Ps like her. ###(Social Marketing Section/DSWD Field Office Caraga)