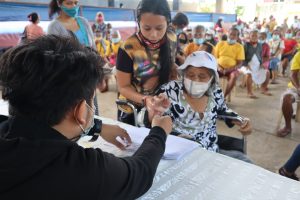 "Because of Social Pension, my granddaughter got her bachelor's degree". – Nanay Julita Porogoy.
"Mapasalamaton gyud ko sa DSWD sa tibuok nakong kinabuhi, kay nasulbad ang bayrunon sa pag-eskwela sa akong apo pinaagi sa akong pension nga gidawat gikan sa gobyerno (I will forever be grateful to DSWD my granddaughter's school fees were settled through the social pension I received from the government)," Nanay Julita emotionally shared.
Nanay Julita was 67 years old when she qualified as beneficiary of the Social Pension for Indigent Senior Citizens Program. She is a resident of Poblacion 1, Santiago, Agusan Del Norte and is now turning 70 on June this year. Her granddaughters were left under her care when their parents separated.
Her way of raising her granddaughters and sustaining their needs is by planting root crops which they'll have to wait for 3 months before they can have a harvest. So, in three months' time Nanay Julita had to do extra farm-related works. However, a slow improvement in their living conditions began when she qualified for the program.
When asked how she feels and sees the program, and how it had impacted their lives, she shared, with teary-eyes, "Mapasalamaton man gyud ko permi kada dawat nako pero lahi ra gyud last year ma'am, diha nako naappreciate ug maayo ang pension kay akong mga apo nangasakit sa ako tanan ang gasto unya naa pa sab koy maintenance (I have always been thankful every time I get my pension but not until my granddaughters got ill last year that I saw how important the program was, especially that I also had my maintenance medication)," Nanay Julita shared.
Julita Porogoy is one of the 1,200 beneficiaries of Social Pension in the town of Santiago, Agusan Del Norte whose character is an exact manifestation of a contented heart. Apart from being a beneficiary, she's a kind of a good citizen by displaying obedience to the rules in their locality as a way of reciprocating the favour granted by the government.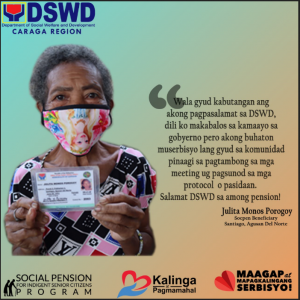 "Wala gyud kabutangan ang akong pagpasalamat sa DSWD, dili ko makabalos sa kamaayo sa gobyerno pero akong buhaton mo serbisyo lang gyud sa komunidad pinaagi sa pagtambong sa mga meeting ug pagsunod sa mga protocol o patakaran. Salamat DSWD sa among pension (I am so much grateful for DSWD. I cannot repay the government's thoughtfulness but at least I can do some services in the community by attending to meetings and by adhering to the law and the protocols. Thank you for the pension, DSWD)," she added.
DSWD FO-Caraga has about 170,000 targeted beneficiaries for the year 2021. DSWD is working hard, together with the Local Government Units and the Office of the Senior Citizen's Affairs, to provide for the needs of indigent senior citizens.
Currently, the agency is conducting payouts for the 1st semester of 2021, covering the months of January to June. Simultaneous to the payouts, the agency will also conduct validation to more than 30,000 seniors whose names are yet to be finalized for the 2021 payroll, including replacement beneficiaries.
As of the moment, the Field Office is on track to finish all 170,000 beneficiaries before the end of June.