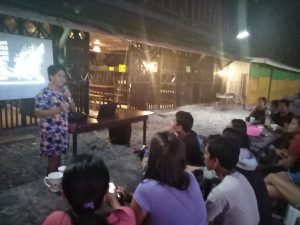 To ensure immediate and efficient delivery of social services to the communities in Alegria, Surigao del Norte, the KALAHI-CIDSS have equipped new Municipal Coordinating Team (MCT) members through an orientation at Kalipayan Beach Resort, Punta Bilar, Surigao City, recently.
Since most of the MCT members are newly-hired staff and are new to KALAHI-CIDSS program, they were oriented about what the program is and what their roles and responsibilities are.
KALAHI-CIDSS or the Kapit-Bisig Laban sa Kahirapan – Comprehensive and Integrated Delivery of Social Services is one of the poverty alleviation programs of the government being implemented by the Department of Social Welfare and Development.
After the orientation, Alegria Municipal Social Welfare and Development Officer Arlyn Pasia-Gabeligno, who is also the Municipal Area Coordinator, facilitated an activity pertaining to self-awareness in connection to how the ACT and MCT can improve their working attitude towards their work and their co-workers.
The activity also serves as a venue for the team to get to know more with other ACT and MCT members. It is also one way of building a good relationship with the team despite the length of service and current working status in KALAHI CIDSS.
The activity was participated by the ACT and MCT of two different modalities: PAMANA IP-CDD and KALAHI-CIDSS Additional Financing. (Gemalou S. Lumile, Area Coordinator)