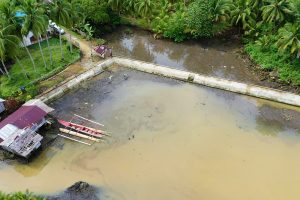 Helpless. This is how residents of Barangay San Roque in Pilar town, Siargao Island, Surigao del Norte province felt a few years ago as rising sea waters caused by climate change slowly eroded their land. Coastal villages, especially in the Philippines, has always been at the mercy of nature, as the country is one of those that is greatly affected by global warming.
During high tide, sea water reaches San Roque through an inlet. An inlet is an indentation of a shoreline, usually long and narrow, such as a small bay or arm, that often leads to an enclosed body of salt water.
And as waves, no matter how small, continuously creep the village's banks, it erodes the land, leaving residents worried that the sea would one day claim their houses and properties.
Erosion is the geological process in which earthen materials are worn away and transported by natural forces such as wind or water. It's no secret that rapid rise of sea level due to global warming caused this process to accelerate.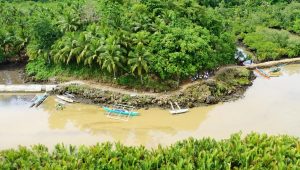 According to the Climate Change Commission (climate.gov.ph), which is under the Office of the President of the Philippines, the entire country will actually experience significant amounts of sea level rise, accounting for about twice to even three times that of the global average.
Damage to property, impacts to livelihood and tourism in vulnerable coastal areas; relocation of a number of houses because of coastal erosion; increased risks of mangrove areas, coral reefs, and marine protected area and beaches are just some of the observed climate change impacts on coastal systems, the Commission reported.
"The effects of soil erosion go beyond the loss of fertile land. It has led to increased pollution and sedimentation in streams and rivers, clogging these waterways and causing declines in fish and other species. And degraded lands are also often less able to hold onto water, which can worsen flooding," the World Wildlife (WWF) also reported.
However, San Roque residents won't just sit down or leave without a fight. When the government's KALAHI-CIDSS program made its second cycle implementation in Pilar town in 2016, the community in Barangay San Roque were one in identifying their most needed project – a wharf that will serve as a barrier to rising sea waters and at the same time will be used as miniport and fish landing area.
KALAHI-CIDSS or the Kapit-Bisig Laban sa Kahirapan – Comprehensive and Integrated Delivery of Social Services is one of the poverty alleviation programs of the government being implemented by the Department of Social Welfare and Development (DSWD). KALAHI-CIDSS uses CDD (Community-Driven Development) as the overall community development approach and strategy. The CDD approach ensures that development priorities are addressed in a participatory, collective, inclusive, and in demand-driven way.
Construction of the 80-linear meter wharf, which costs Php1,273,000, started on June 9, 2016, and was completed on August 17, of the same year.
The wharf, which harbors small boats or bancas, is situated at the end of the inlet. From there, San Roque residents ferry these boats going out to the open sea and to the shores of the town center of Pilar and other neighboring coastal villages. Most residents prefer to ride these boats as fare is much cheaper compared to those of motorcycles plying inland.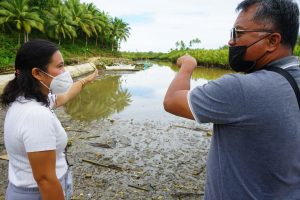 "Ini man mosakay ang mga tao kay barato man dinhi ang pletehan sa pumpboat kaysa sa motor. Lisud man sa una dinhi. Sa una ang mga bata magkalapok man. (This is where residents access transportation because fare is much cheaper when riding a pumpboat than a motorcycle. It's so hard here in the past. Students often get muddy [boarding a boat to school]," San Roque barangay captain Nilda Gonzales said, in an interview last April 14, 2021.
"Kami na ang nagplastar ani. Dako jud og tabang ang wharf kay depensa sa tubig (We were the ones who put these all in place. The wharf is such a huge defense against the seawaters)," Gonzales added.
The project is a joint effort of DSWD, the Municipal Government of Pilar, barangay local government unit of San Roque, and the community volunteers.
Moreover, San Roque residents' fight against soil degradation continues through DSWD's Risk Resiliency Program implementation last year. The Risk Resiliency Program (RRP) thru Cash-For-Work on Climate Change Adaptation and Mitigation (CCAM) aims to encourage people to participate in any mitigating activities from the effects of climate change by providing temporary employment.
Under the said scheme, residents were paid to build a stone wharf and clear a pathway that connects with that of KALAHI-CIDSS' project. The stone wharf also serves as a barrier that protects an area that is also vulnerable to soil erosion.
There are so much more that needs to be done; but for now, residents of Barangay San Roque can breathe a sigh of relief knowing that their village is safe from the adverse effect of sea level rise due to global warming.